Cantrell Close: Two released in UVF threats investigation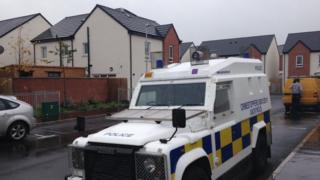 Two men who were arrested over sectarian threats against Catholic families in Belfast have been released, pending a report to prosecutors.
Last month, four Catholic families left their homes in Cantrell Close.
The PSNI later said the threats were made by people claiming to be from the Ulster Volunteer Force (UVF), a loyalist paramilitary organisation.
The men, aged 37 and 40, were detained earlier on Monday under the Terrorism Act.
They were questioned on suspicion of membership of a proscribed organisation, namely the UVF, and were released on Monday night.
Cantrell Close is a housing development which is part of the Together Building United Communities programme.
The strategy, which was launched by the Northern Ireland Executive in 2013, is aimed at "improving community relations and building a united and shared society".
Det Chief Insp Gary Reid said the arrests were "part of our ongoing investigation into the UVF in East Belfast, including the intimidation of families in Cantrell Close".
There was controversy in June when union flags and and UVF flags were put up in the area.
Last week, a group that claims to mediate on behalf of loyalists linked to the UVF in east Belfast said an agreement had been reached to remove loyalist flags from Cantrell Close.
The East Belfast Community Initiative said the flags, which it said were linked to the historic UVF of 1912, were taken down as a goodwill gesture.
Following the intimidation of Catholic families, it was reported that two Protestant community workers living nearby, both pensioners, were also threatened.
Last week, Chief Constable George Hamilton said it was too early in the investigation to say whether dissident republicans were behind those threats.