Young mother dies in Derrylin, County Fermanagh, car crash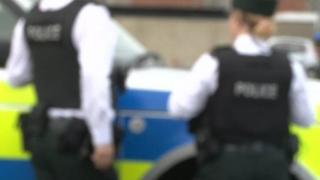 A 23-year-old mother of one has died following a single-vehicle collision in County Fermanagh.
Natasha Carruthers' car crashed on the Newbridge Road in Derrylin shortly before midnight on Saturday. Two other people in the car were injured.
The man and woman, also believed to be in their 20s, were taken to hospital with injuries described as serious.
The dead woman was from Letterbreen in County Fermanagh, according to the Reverend Canon Ian Ellis.
"I called with her family today and they are totally stunned by the terrible news that she lost her life in a tragic road traffic accident," he said on Sunday.
"They received that news from the PSNI in the early hours of Sunday morning and are still in great shock and trying to come to terms with this reality which is every parent's worst nightmare."
Canon Ellis, rector of Rossorry Parish Church in Enniskillen, said that as well as family and friends, the parish and wider community would help the family through "this most difficult of times".
"Our prayers and thoughts are focussed upon them as they grieve this most dreadful loss of a dear daughter," he said.