Red Hand Commando should 'simply go away', says PSNI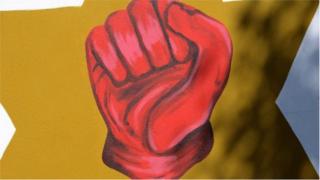 Groups like the loyalist paramilitary Red Hand Commando should "simply go away," the PSNI chief constable has said.
The group has recently applied to the Home Office asking to be taken off the list of proscribed organisations, or legalised.
It is affiliated with the Ulster Volunteer Force, which is blamed for about 500 murders during the Troubles.
The Home Secretary has 90 days in which to respond to the application.
George Hamilton told the BBC's Inside Politics programme that there was "no excuse" for such groups to exist - almost 20 years after the signing of the Good Friday Agreement.
He said he supported any move away from violence and criminality, but said: "I just have this burning question about why, 20 years after the Good Friday Agreement, any of these groups still exist?"
"If people are really serious about the peace process then they should simply go away," he added.
Mr Hamilton said he had not yet been asked to advise the government on its decision.