Irish skiers 'roll' out new sport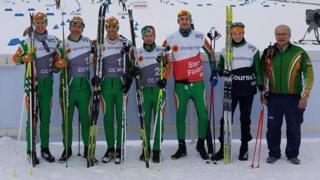 The Irish cross-country ski team.
Admit it; you're thinking 'Cool Runnings', you're thinking Eddie the Eagle, you're thinking plucky losers who provide a little light relief from the "real" competition but will never stand, bathed in snow-bright glory, on the winners' podium.
Well, think again; these boys mean business.
Cross-country skiing involves making your own way over vast tracks of snow-covered land. No ski lifts or other such luxuries for these hardy types.
The Irish team's talisman is a phenomenal 22-year-old athlete whose dual-nationality booms out from his name like an Alpine yodel: Thomas Maloney Westgaard.
And it's Thomas who is, in so many ways, blazing a trail for Irish skiing on the world stage.
Last year, he became the first Irishman to compete in the sport's World Cup series, while in February his performance in the World Championship saw him take his place among the elite as he broke into the top 50.
He has also become the first Irish cross-country skier to be considered a Grade 'A' Olympic athlete.
This will see him line out against the very best on the planet in the winter games in Pyeong Chang in February.
And speaking of firsts: this weekend Thomas and his team mates will notch up yet another as they demonstrate the sport, previously unseen in Ireland, of roller-ski racing by taking part in the Galway marathon.
Roller skis? They are essentially long roller blades that act and feel much like skis on snow.
The team captain is 47-year-old Dominic McAleenan.
'I always liked winter so it kind of suited me'
Originally from Banbridge, he's been living in Norway for many years.
It was a school trip in the 1980s, aimed at promoting harmony during troubled times, that led to Dominic's love affair with Norway and, in turn, with skiing.
"The principal [of my school] said two people were going to visit Norway. He said they had to be boys and all the girls left the room," he said.
"Then he said they had to be Catholic and all the Protestants left. There were only two of us remaining. So that was it, we were off to Norway. I just fell in love with it. I always liked winter so it kind of suited me."
But he only took up skiing "actively" about seven years ago.
Since then, he's had a spectacular rise through the ranks.
His hope, and that of his team, is that taking part in events such as the Galway marathon will help market Thomas ahead of the Olympics and promote the sport generally in Ireland.
'Once you're rolling, you're rolling'
Dominic says roller skiing is very similar to its snowy cousin in technique and feel and that it's a relatively cheap sport with which to get involved.
But he added: "The problem mostly is finding somewhere to do it.
"It would need to be along cycle paths really or along country roads where there's not too much traffic because you can't really brake on them; once you're rolling, you're rolling".
And it's for that reason that the roller-skiers will start 30 seconds ahead of the rest of the 4,000-strong field.
Dominic's hope now is that other marathons, including Belfast, will allow roller-skiers to take part and that eventually we could see dedicated events in Ireland.