NI Commonwealth Youth Games decision delayed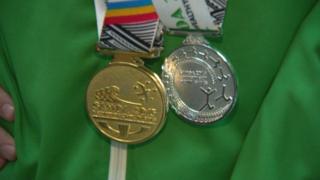 A decision on whether NI can host the 2021 Commonwealth Youth Games has been pushed back until December.
The collapse of the Northern Ireland Executive meant funding for the games was not released on time.
A handover ceremony due to be held at the end of the 2017 games in the Bahamas in July was cancelled.
The Commonwealth Games Federation (CGF) has given the NI Commonwealth Games Council (NICGC) until 15 December to determine if it can go ahead.
The CGF's executive board issued a statement following a meeting in Colombo in Sri Lanka.
The statement welcomed the "continued support from the Northern Irish sporting community, and empathised with the circumstances surrounding the legislative assembly and executive".
The organisation's president, Louise Martin, said: "With four years to go…. we are optimistic that all partners will soon come together to realise their shared legacy ambitions for this special event."
The Commonwealth Youth Games brings together young athletes aged 14-18 from the 52 countries of the Commonwealth.
Previous host countries have included Samoa, the Isle of Man and India.
Sports stars like Carl Frampton, Michael Conlon, Jessica Ennis Hill, Beth Tweddle and Louis Smith have all taken part in previous events.
The hosting rights were awarded to Northern Ireland in February 2016.
Northern Ireland has been without a functioning devolved government since January, when the coalition led by the two biggest parties, the DUP and Sinn Féin, collapsed over a botched green energy scheme.