Londonderry church defecation accused reported to police by mum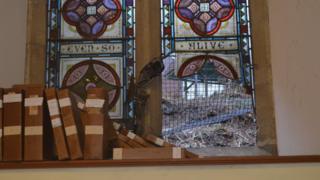 A man accused of an attack on a church was reported to police by his mother after she recognised his image in a police appeal, a court has been told.
Christ Church in Londonderry was badly damaged in the break-in last month, and the repair bill could exceed £100,000.
James Anthony Kennedy, from Derry's Glenside Park, denies charges including theft, trespass and criminal damage.
Police told Londonderry Magistrates' Court that faeces was found on the pages of a Bible and the church organ.
Facebook appeal
The organ was extensively damaged during the break-in and a priceless crystal decanter was among several items stolen from the building.
The cost of the damage to the Church of Ireland building is estimated at between £75,000 and £100,000, police added, but that does not include the repair costs for the organ.
The court also heard that police had not identified a suspect until this week, when they published images of two men in a witness appeal on Facebook on Wednesday.
Mr Kennedy's mother claimed to have recognised him in one of the photographs and contacted police, leading to his arrest.
The 22-year-old restaurant worker faces a number of charges over the break-in on 12 September.
He is accused of entering Christ Church as a trespasser as well as stealing the decanter, a reader's robe, an organist's surplice and communion wine.
'Horrified'
He is also charged with causing criminal damage to the organ, a stained-glass window, a Bible and a boiler room.
After his arrest, he told police that the man in the image "looks like me" but he added: "I was not in the church."
Applying for bail, a defence solicitor said that Mr Kennedy had been horrified by what had happened but he denied the offences.
The defendant was released on his own bail of £500 and is due to appear in court again on 2 November.
Under his bail conditions, he is banned from entering within 220 yards (200m) of Christ Church and he must not contact the church's archdeacon.