NI exporters still benefit from weaker pound, says Ulster Bank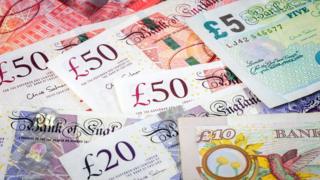 Northern Ireland exporters are continuing to benefit from a weaker pound, an Ulster Bank survey suggests.
The bank surveys private sector activity monthly, in what is considered to be a reliable indicator.
The September survey showed the strongest rate of output growth this year, with the service sector showing greatest growth.
Respondents also said that extra staff were taken on to deal with increasing workloads.
That suggests that unemployment in Northern Ireland could continue to fall in coming months.
'Acceleration in growth'
Richard Ramsey, Ulster Bank's chief economist, said Northern Ireland's private sector "continued to defy political and economic uncertainty" in September.
It saw marked increases in output and new orders that were "both the fastest in 2017 so far", he added.
"Local firms are also faring better than their counterparts across the UK as a whole at present, with the acceleration in growth contrasting with signs of a slowdown at the UK level," Mr Ramsey said.
"Part of the improvement in new business was reflective of continued growth of new export orders."
Most economists forecast only slight growth in the Northern Ireland economy as a whole this year.
That is because growth in the relatively small exporting sector is expected to be offset by continuing public sector austerity and weaker consumer spending.