County Antrim Wrights Group bus firm makes £11m profit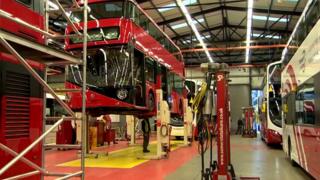 Wrights Group, the County Antrim bus manufacturing firm, made a pre-tax profit of nearly £11m in 2016.
That was achieved on turnover of £264m, which was down by more than £10m compared to 2015.
The company said there had been reduced demand in British provincial cities ahead of possible changes to bus regulation in England and Wales.
Overall, the firm said it had continued to perform well in domestic and international markets.
An assembly facility in Malaysia is now fully operational, as is a joint venture in India.
The company spent £6.5m on research and development during the year.
It said that would help position it to take advantage of increasing demand for low and zero emission buses.
The business now employs more than 1,800 people, mainly in Ballymena.
Last year, the group agreed to buy the 100-acre JTI Gallahers factory site in Ballymena, which is close to its existing manufacturing base.
JTI will end its operations in Ballymena later this month.
Another of Northern Ireland's major manufacturing employers, Brett Martin, made a pre-tax profit of £7.3m.
The Newtownabbey based firm makes plastic products mainly for use in the construction sector.
It increased its annual turnover to by 12% to £152m and saw staff numbers rise to just under 1,000.