The View: DUP MLA in 'state violence' warning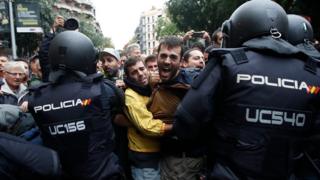 A DUP MLA has compared the reaction to the Catalan independence referendum to clashes during civil rights marches in Northern Ireland in the 1960s.
In October 1968, police used batons and water cannon in an attempt to disperse protesters in Londonderry.
Violent skirmishes broke out and more than 30 people, including some children, were injured.
Dramatic images were broadcast around the world and it is often referred to as the day the Troubles began.
Reacting to events in Catalonia at the weekend, Christopher Stalford said the state needed to consider what was a "proportionate response" to protests.
'State violence'
The South Belfast MLA told the BBC's The View programme that the force used against protesters had been "totally counterproductive".
"There have been instances in Northern Ireland's history where. even if the forces of the state had the law on their side. they lost the moral argument by the sway in which events played out in the press," he said.
He said he was not criticising the media: "Ultimately they report what they see and what you seen in Barcelona and places like that was state violence used to prevent people from voting and I think that that will have a totally counterproductive outcome to that which the government in Madrid intended."
Mr Stalford added: "In relation to the events in '68 it is true to say that the law prohibited marches from taking place, but the argument was lost in terms of the fall out that followed the actions of the police and the state and so there is a time when the state needs to consider what is a proportionate response to people protesting and people marching on the streets.
"Sometimes the state authorities, not only in Northern Ireland, can overreact and the consequences of overreaction are generally to produce the reverse effect to that which the state wanted."