Thalidomide campaigners in talks with German government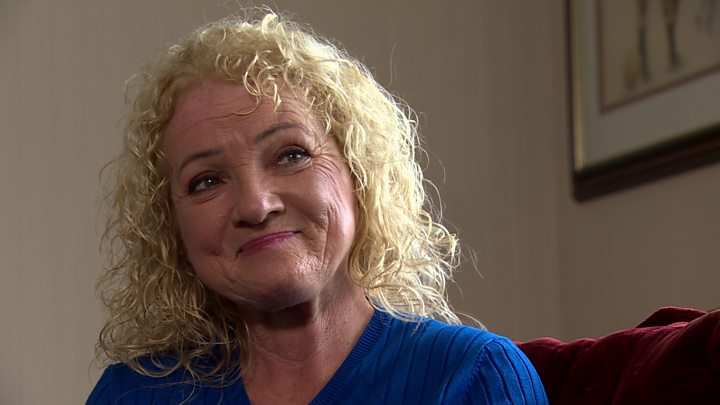 British Thalidomide campaigners have opened up a channel of communication with the German government, BBC News NI can reveal.
It is more than 60 years since the drug was created in Germany which saw thousands of mothers across the world give birth to deformed babies.
It is one of the worst disasters in medical history.
Campaigners describe the talks that took place in September in Brussels as a big breakthrough.
Thalidomide was developed as a sedative by German pharmaceutical company Chemie Grunenthal in 1954 and put on the market there under the brand name Contergan.
Hailed as a wonder drug on its release, it was also used to ease morning sickness in pregnant women.
Four years later, it was approved by the UK's National Health Service (NHS) and distributed by drinks company, Distillers, under the brand name Distaval in the UK.
It was withdrawn in 1961 after being linked to catastrophic birth defects ranging from missing limbs to internal organ damage.
Kim Fenton's mother Agnes Lattimer, from Belfast, was among those who took the drug.
Mother-of-three Kim, who was born without legs, shortened arms, twisted hands and no thumbs, is the public face of the thalidomide campaign in Northern Ireland.
Official apology
She was among the UK survivors who lobbied Distillers and the British government for compensation for allowing the drug onto the market without tests to ensure it would not harm unborn babies.
They received an official apology in 2010 and confirmation of a new £20m funding package for the Thalidomide Trust to help meet the needs of survivors.
That pay-out was on top of compensation of about £28m from Distillers in the 1970s which has been added to over the years by a successor company.
In the UK, it is estimated that of the 2,000 Thalidomide babies born, fewer than 500 are still alive - 18 of them are in Northern Ireland.
Now, as they age, their complex and highly specialised health needs are increasing. So too is the cost of meeting those needs and that is why they are targeting Berlin.
'Disintegrating bones'
Fifty-five-year-old Kim told BBC News NI: "We are a dwindling band, surviving longer than expected and our bodies are deteriorating far faster than our able-bodied peers.
"My bones and muscles are disintegrating because they've been so weakened by overuse to compensate for absent limbs.
"The strain of using my arms as legs to walk has taken a toll. Wearing my artificial legs has dislocated my hip and they can't operate because my bone structure is so complex".
"Survivors need much more money to pay for extra help.
"We need increased personal care and have to make more adaptations to our homes and cars. All this is hugely expensive."
That is underscored by Thalidomide campaigner and survivor Craig Millward: "The wear and tear on our bodies - there was simply no way of categorising it when damages were set all those years ago.
"Most of us have lived very significant lives in the sense that we've pushed ourselves to do things that perhaps our bodies simply weren't designed to do."
While Craig would not expand on the specifics of their opening dialogue with the German government he told BBC News NI:" While we didn't get any guarantees we did get a recognition that perhaps Germany does have a responsibility to help us in this last stage of our lives"
'Fresh hope'
Kim describes the face-to-face talks between British Thalidomiders and the German government as a major development.
"It's taken over half a century to get this far with the German government. I feel the recognition of our drastic decline and burgeoning requirements have brought them into these discussions with us.
"These talks have given us fresh hope that may well pave the way to a financial contribution in the not too distant future for us and other Thalidomiders across Europe to address our ongoing and worsening health situation".
EU lawmakers
Last month's key meeting in Brussels was attended by high-profile figures Dr Ralf Kleindiek, the state secretary at the German Family Ministry which oversees the country's thalidomide compensation fund, and German MEP, Jens Geier.
Mr Geier is a member of the SPD, Germany's oldest and second biggest political party and heads the Social Democrats group in the European Parliament.
The talks came nine months after EU lawmakers urged Germany to grant broader access for other Europeans to its fund for those damaged by the disabling drug.
Mr Geier told BBC News NI: " I am a strong supporter of the UK thalidomide advocates and put them in contact with the German government to discuss the issues at hand and possible solutions."
He too would not be drawn on what is meant by a fair solution or discuss the agenda saying it is "a very sensitive issue" and the meeting took place "on a confidential basis".
State Secretary Kleindiek said only that it was "a very positive exchange with the interested parties representing the thalidomide victims in GB".