PSNI: 'UVF behind intimidation of Catholic families'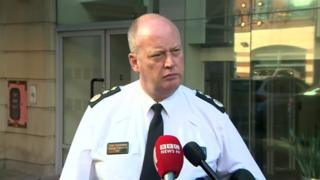 People claiming to be from the UVF were behind the intimidation of Catholic families from a shared housing area, the PSNI Chief Constable has said.
Police did not know if it was an "organisational position" because the UVF are a "chaotic disorganised crime group", George Hamilton said.
The PSNI warned a number of families in Cantrell Close in east Belfast they were under threat last week.
Four Catholic families left their homes in the area off the Ravenhill Road.
Party leaders in Northern Ireland jointly condemned the threats.
Earlier on Thursday, a group that claims to mediate on behalf of loyalists linked to the UVF in east Belfast said an agreement has been reached to remove loyalist flags from Cantrell Close.
The East Belfast Community Initiative says the flags, which it claims are linked to the historic UVF of 1912, were taken down as a goodwill gesture.
Mr Hamilton said the UVF "has no legitimacy" and is a "scourge on the community".
"People are giving us information but out of fear won't translate that into written statements and go into court and give evidence against these people," he said.
"I just wish the UVF wouldn't be there anymore," he added.
Speaking in relation to alleged dissident republican intimidation of loyalist community workers Mr Hamilton said that the PSNI are investigating and that it is too early to draw conclusions.