'Don't isolate pupils over uniforms' - Commissioner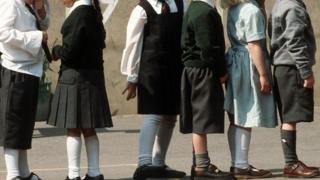 Pupils should not be sent home for breaking school uniform rules, Northern Ireland's Commissioner for Children and Young People (NICCY) has said.
In a letter sent to Northern Ireland's school principals, Koulla Yiasouma said isolation was not a proportionate sanction for "uniform infringements".
Discipline over uniform policy should not breach a child's fundamental right to education, wrote Ms Yiasouma.
She has been NI Commissioner for Children and Young People since 2015.
Ms Yiasouma acknowledged that school uniforms were not governed by legislation and that each school had the right to set its own policy, but she remained concerned that schools could be inflexible on uniforms.
"I fully appreciate the need for uniforms and the ethos behind them," she wrote.
She called on school leaders to review their school uniform policies "to ensure that the views and voices of pupils and their parents and carers are heard and to show flexibility and pragmatism in the application of the policy".
Freedom of hairstyle
Speaking during a television debate on the BBC programme The Top Table on Wednesday, Ms Yiasouma said: "I am quite confident that principals and boards of governors will take a common-sense approach."
But she drew a distinction between uniform policy and schools policy regarding hair styles.
"Uniform policy is a uniform policy, it dictates what a child looks like in the hours between 09:00 and 15:30 when they are in school - a haircut is for 24/7," she said.
"And children have every right to have their hair in whatever way they want."
But she added that she could not act any further on the issue until a Northern Ireland government was in place and issued guidance.
Northern Ireland has been without a devolved government since January, when the power-sharing Executive collapsed over a botched green energy scandal.
Ms Yiasouma also said it was understandable that schools restricted certain kinds of jewellery for health and safety reasons.
In March, Ms Yiasouma said the policy of isolating school pupils was "wrong".
She was commenting on the case of a schoolboy who was punished over a haircut his school said portrayed the wrong image.