Drug addiction: 'Shocking' waiting list for help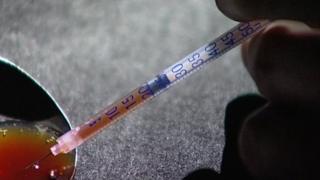 More than 600 people in Belfast are currently on a waiting list seeking help for drug and alcohol addiction.
A former addict described the figures as shocking, and said authorities were "gambling with people's lives".
Peter, not his real name, said it was a slap in the face that addicts ask for help and may have to wait months.
Belfast trust said it has a plan to reduce waiting lists and is keeping the situation under review with other statutory and voluntary sector bodies.
'Significant demand'
A spokesperson said: "Belfast HSC Trust is seeing significant demand for Community Addiction Services, with a limited capacity to respond.
"The trust has a recovery plan to target waiting lists in Community Addiction Services which will enable us to ensure that individuals are seen as soon as possible."
Thelma Abernethy of Addiction NI, which provides treatment and support for addicts, said there had been enough talking and action was urgently required.
Some 634 men and women are currently on the waiting list to see a counsellor with the Community Addiction Team in Belfast.
Addiction NI says the demand for counselling and support is rising.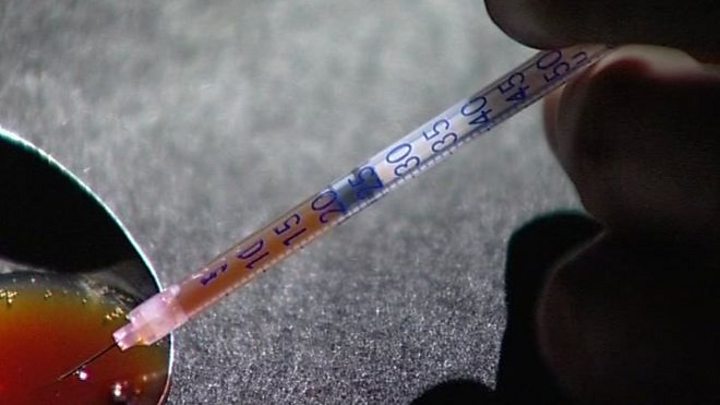 'You live day to day'
Peter, who has lived on the streets, said it took a lot for an addict to make a phone call to ask for help.
"You just live day to day. You think: 'Have I enough money for some food and then where will I get the rest for drugs?'.
"But to make that call like I did requires being brave. It requires someone being there to talk to you and to arrange to meet you - not to be told to phone back in six weeks."
Last week, representatives from Iceland visited Belfast to share their experiences of tackling addiction.
Investment
Ms Abernethy said the difference between Northern Ireland and Iceland is that the Nordic country invested in its young people.
"The government in Iceland invested around 430 Euro (£380) per young person." she said. "They invested in sport and the arts, also in parenting. Everything that we are doing away with."
On Monday, Belfast City Council voted unanimously to back an action plan to address the drug and alcohol problem in the city.
The SDLP's Paul McCusker said more counsellors were needed to meet the demand, but said there was also a need to tackle the suppliers.
"One man told me he could get cocaine on one side of the street and prescription drugs on the other, all being run by paramilitaries. This man wanted help but he's also afraid of the paramilitaries," Mr McCusker said.