Agency nurses 'can cost Northern Trust £100K a year'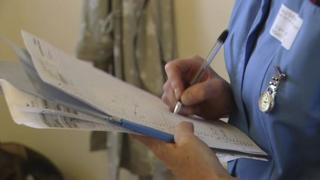 Hiring an agency nurse when no NHS staff nurses are available can cost up to £100,000 a year, the head of a Northern Ireland health trust has said.
That is almost four times the annual salary of a permanent employee who does the same job and, in some cases, agency nurses cost more than senior doctors.
But not all the money goes to nurses, a significant part is paid to agencies.
The £100,000 figure was revealed by Dr Tony Stevens, chief executive of the Northern Health and Social Care Trust.
'Crazy situation'
He confirmed the price during a meeting with SDLP politicians, Patsy McGlone and John Dallat.
Dr Stevens told them a widespread staffing shortage was forcing the trust to use high-cost nursing agencies.
Mr McGlone told the Press Association: "This unregulated pay spiral is going out of control and leading to this crazy situation."
The SDLP MLA said the lack of staff nurses had effectively resulted in "privatisation through the back door".
'Political failure'
The Royal College of Nurses (RCN) said the cost of deploying nurses via agencies has reached "unprecedented" levels, costing Northern Ireland's Health and Social Care Services (HSC) £23.5m in 2016/17.
The nurses' union blamed staff shortages on "inadequate" workforce planning and a "failure" of political leadership.
However, the RCN added that it was not aware of any individual nurse who was being paid £100,000 a year.
Its deputy director in Northern Ireland, Garrett Martin, said: "While large figures are being reported in relation to agency nurses' pay, a significant proportion of this goes to the agency, not the nurse".
In a statement, the health trust said the shortage of nurses was both a national and international problem.
It said that like other NHS bodies it was actively trying to recruit permanent staff, but warned the pay situation was unsustainable.
"Failure to recruit the numbers of nurses and doctors that we need means having to resort to increasing use of high-cost non-contract agency staff which can be three to four times the cost of equivalent trust-employed staff," it said
"That is a position that we simply cannot afford."
The trust said the majority of the registered nursing workforce was made up of people on the "band five" NHS pay scale.
Band five NHS nurses can earn between £21,690 and £28,180 a year in Northern Ireland.
'Even higher'
The trust's £100,000 per year claim reflects the total annual cost of hiring an agency nurse to do the job of a permanent staff nurse.
Nursing agencies take a significant cut for supplying skilled workers at short notice.
The income of individual agency nurses will vary significantly, depending on their hourly rate of pay and how many hours they choose to work.
The Northern Health Trust's statement said: "Agency nursing staff in general cost a premium above the pay roll funding that the trust has available.
"However, due to the national shortage of nurses we have become reliant on agencies which are not in contract with the HSC [Health and Social Care Services] and these premiums are even higher."
The BBC asked the trust how many times it had paid out the £100,000-a-year rate to agencies during the last financial year.
Its spokeswoman replied the trust "does not monitor agency spend by individual as it engages with the agency to provide required nursing cover rather than individuals".
"The trust pays the agency and it is between the agency and nurses as to what the nurses get paid."
'Near misses'
The RCN's deputy director claimed there are currently more than 1,500 HSC nursing vacancies in Northern Ireland and at least another 1,500 empty posts in the independent sector.
"The majority of nurses are working unpaid hours in an attempt to provide the best care for patients and many have reported that they are concerned that there are not enough staff to do their jobs properly and are reporting errors, near misses or incidents involving patient safety," Mr Martin said.
"Pressures within the system have led many nurses to make career decisions to leave full-time employment and work for nurse banks or agencies, or to leave the profession.
The trust provides a range of health and social care services in counties Antrim and Londonderry and run nine hospitals, including Antrim Area Hospital and the Causeway Hospital in Coleraine.
Locums and temporary health staff are expensive to employ.
Northern Ireland's Department of Health currently spends almost £77m on locum and agency workers across all the health trusts and these costs have been steadily rising.
Health officials argue that this money could be invested much more effectively by developing sustainable services.