Northern Ireland car sales down by 5% compared to 2016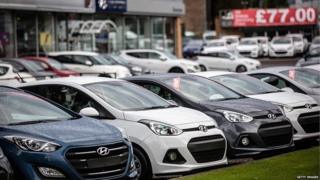 New car sales in Northern Ireland fell by 5% in September compared to the same month in 2016, according to industry figures.
Data from the Society of Motor Manufacturers and Traders (SMMT) shows 6,326 new cars were registered in September.
A total of 45,906 new cars have been sold in Northern Ireland so far this year, down more than 5% on last year.
The best selling cars are the Volkswagen Golf and Hyundai Tucson.
Car sales are seen as a useful measure of the consumer economy in Northern Ireland as there are no general retail sales figures.
In the UK as a whole, sales of new cars fell sharply in September, a move that the SMMT said would cause "considerable concern".
The figure was down 9.3% from September last year, while diesel sales - which have been hit by worries over air quality - fell by 21.7%.
It is the first time in six years that the key September market has fallen.
The SMMT said economic and political uncertainty, as well as confusion over air quality plans, had led to a fall in consumer confidence.
However, it praised the trade-in and scrappage deals that many carmakers had made available to UK buyers, saying they were proving popular and should be encouraged.