NI newspaper review: Princely visit and a toddler tragedy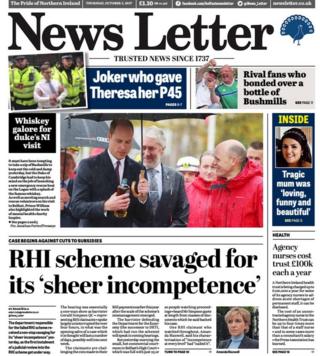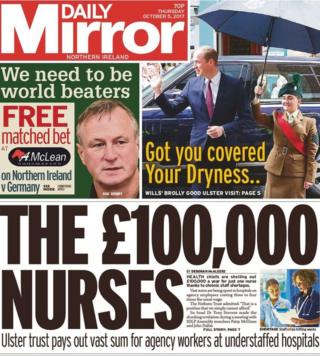 Prince William makes all of the papers today following his whistle-stop visit to Northern Ireland on Wednesday.
The Duke of Cambridge met mental health campaigners as well as volunteers with the Lagan Search and Rescue team.
Keeping it local, he used a bottle of Bushmills whiskey to christen Ray of Hope - a new rescue boat for the river Lagan.
The prince also met former Manchester United player Pat McGibbon.
The court challenge centred on the Renewable Heat Incentive scheme (RHI) scandal also features in the newspapers.
As the News Letter reports, a lawyer for a group of boiler owners challenging the cuts to their payments claimed the Department for the Economy had no legal basis to reduce the scheme's tariff payments.
The RHI scheme was established in 2012 to increase the consumption of heat from renewable resources.
In February 2016 the initiative was closed when costs spiralled.
£100k nurses
On the front page of the Belfast Telegraph, Doug Beattie UUP MLA says he believes his grandson would still be alive if there had not been a long delay in sending test results to his parents.
Mr Beattie's grandson Cameron Tindale was 15 months old when he died in May last year.
An inquest heard yesterday that a hold up in updating the toddler's computerised medical files led to a 32-day delay in sending brain scan results.
The Irish News also reports that the results arrived on the day of Cameron's funeral.
'The £100,000 nurses' is the front page lead in the Daily Mirror.
It reports that it can cost the Northern Health Trust four times as much to employ an agency nurse as a staff nurse.
The trust is paying for agency staff due to a shortage of nurses and doctors.
Cutting agency staff is one of the measures being considered by the health trusts, as they have been told to make savings of £70 million.
Many of Thursday's papers carry tributes to Liam Cosgrave, former taoiseach (Prime Minister) of Ireland.
He died on Wednesday at the age of 97, and was the last taoiseach born prior to the foundation of the Irish Free State.
Paying homage in the Belfast Telegraph, Taoiseach Leo Varadkar said Mr Cosgrave played an important role in the formation of the Sunningdale Agreement, which paved the way for later agreements "culminating in the Good Friday Agreement".
And finally, the Conservative Party conference came to an end on Wednesday, but not before one of Northern Ireland's MPs was spotted singing for his supper.
A short video of Ian Paisley, the DUP MP for Antrim, trying his hand at Neil Diamond's classic Sweet Caroline was shared on social media and reported in Thursday's News Letter and Irish News.