Banbridge hate crimes 'could be linked'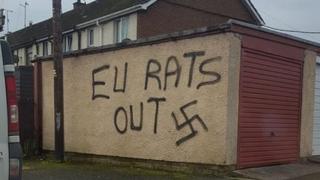 The police have said they believe two hate crimes which happened within the last week in County Down, could be linked.
Racist graffiti was daubed on a wall at Seapatrick Avenue, Banbridge, some time between Monday and Tuesday.
It said "EU rats out" along with a swastika. The wall has since been repainted.
In a video on social media, police said it may be linked to an attack last week at nearby Lincoln walk.
A Bulgarian family had the tyres of their car slashed and the word "out" painted on the side of the vehicle.
It happened at about 05:15 BST last Friday.
The family, who do not speak much English, told BBC News NI the incidents were a "problem."
Elizabeth Dunlop lives in the same street and said that she was shocked at what has happened.
"I think it is terrible," she said. "I have never seen anything like this and I have been living here for 36 years."
"The graffiti isn't right. I think it is a shame.
"I've been talking to the family and I saw them the morning after their car was attacked, and they said 'good morning' and seemed pleasant.
"I'm very disappointed."
Residents of Seapatrick Avenue said the graffiti did not represent the views of the majority of people who live there.
One described the incident as "abhorrent".
"I don't agree with it at all; I think it is absolutely disgusting," said the resident.
"This is the first time we have ever seen anything like that daubed on the walls.
"I am just sickened that anyone would do such a thing."
The police have appealed for anyone with information about either incident to contact them.