Caterpillar fined £7,500 for Larne diesel spill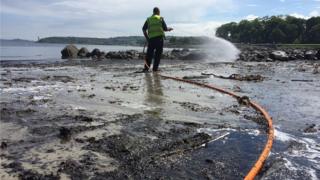 Caterpillar has been fined £7,500 for discharging more than 40,000 litres of diesel into the Irish Sea at Larne.
The company pleaded guilty at Antrim Crown Court on Wednesday.
It had previously apologised for causing the spill in June 2016 and said it had reported the incident when it was discovered.
The diesel created a huge slick in the sea that spread across several miles after it in leaked into a storm drain at Caterpillar's Larne plant.
Caterpillar employed environmental contractors in an effort to clean up the spill.
The Northern Ireland Environment Agency (NIEA) found that the spillage had happened sometime in the late afternoon on Friday 10 June.
A system failure caused diesel to overflow from storage tanks onto the factory floor, before entering the factory's storm drainage system and being discharged into the Irish Sea.
The Judge at Antrim Crown Court heard that Caterpillar had added more "fail-safes" to their fuel systems to minimise the risk of a similar incident occurring in the future.