Prince William visits Belfast rescuers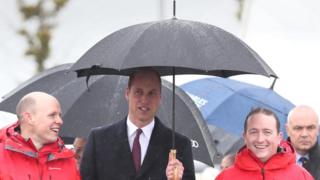 Prince William has met members of Northern Ireland's river and air rescue services in Belfast's Titanic Quarter.
The Duke of Cambridge has visited the mental health charity Inspire, as well as the Lagan Search and Rescue Service and the Northern Ireland Air Ambulance.
The visit follows his brother Prince Harry's official visit in September.
Prince William will attend a private dinner for the Irish Guards Association on Wednesday evening.
The Duchess of Cambridge, who is pregnant with the couple's third child, has not accompanied her husband on the trip to Northern Ireland.
The Prince's first appointment was visiting Inspire, a charity and social enterprise which focuses on promoting wellbeing across the island of Ireland.
One of those the Duke spoke to was former Manchester United player Pat McGibbon, whose brother Philip took his own life in 1993.
Mr McGibbon now runs a football programme in County Armagh aimed at building mental resilience through team sport.
The prince paused to hear about the initiative from a number of young footballers involved.
Mr McGibbon said he was impressed with the Duke's passion for the subject.
"It's very important to him and I can totally understand that," he said.
"He was very personable in everything he said and it was great for him to give up that time and interact with the adults and the kids."
Prince William also chatted with pupils from Our Lady and St Patrick's College in Belfast, who have developed a student-led project to help raise awareness about mental health issues within the school community.
'Reducing the stigma'
Nicola McCarry, a teacher at the school, said the duke took a real interest in what the children had to say.
"He asked would this project be across all schools in Northern Ireland, and while there are pockets of very good practice there, I suppose mental health being completely embedded into the curriculum is still a box we have to tick," she said.
"But he said this is where it starts really. He was very interested in what the young people had to say and their views."
He also met mental health counsellors and service users before officially opening the charity's new offices.
The former RAF search-and-rescue pilot then travelled to the historic Titanic Quarter to see the work of Lagan Search and Rescue lifeboat service.
The Duke then watched a live demonstration of a rescue mission in the Abercorn basin - which involved the deployment of a lifeboat, quayside response and rescue swimmers - before meeting a number of the volunteers.
One of the helicopters from the recently established Northern Ireland Air Ambulance service was parked alongside the harbour.