Ladies Gaelic football on top of the world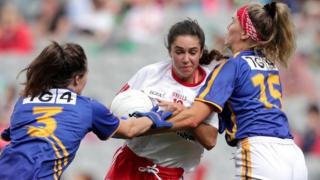 High fielding, strong shouldering, courageous blocking - Ireland's ladies Gaelic footballers' commitment matches their male equivalents and then some. And their efforts are paying off.
A massive 46,286 people attended this year's All-Ireland Ladies Gaelic Football finals day, making it the highest attended women's sporting event in the world in 2017.
Nearly 125,000 spectators travelled to Iowa for the Solheim Cup - the female equivalent of golf's Ryder Cup - but that tournament was held over three days.
The previous highest attendance at a female sporting event this year was the 35,271 who attended the Women's FA Cup Final at London's Wembley Stadium.
Pitch-side proposal
At 2017's Ladies Gaelic football finals, three games at three levels were played in Dublin's Croke Park on Sunday 24 September.
Dublin defeated Mayo in the senior final, Tyrone were defeated by Tipperary in the intermediate final and in the junior final Fermanagh and Derry drew.
Fermanagh won the replay 2-9 (15 points) to Derry's 11 points.
They face each other again on Sunday in Clones, County Monaghan, for a replay.
A successful half-time pitch-side marriage proposal also added to the excitement of the day.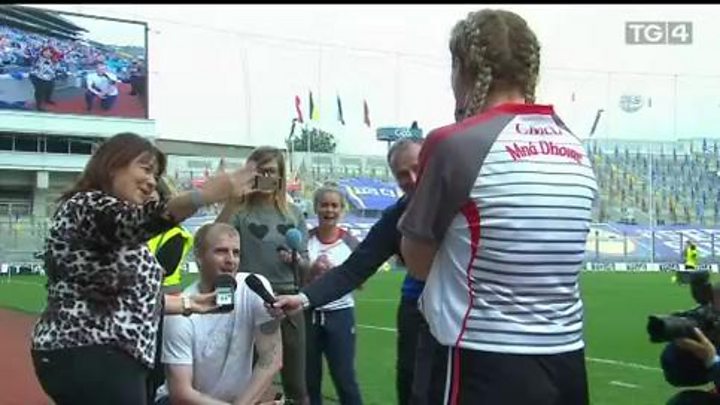 A 46,000-crowd at a women's sporting event is high.
By way of comparison, 17,115 attended the final of the Women's Rugby World Cup in Belfast's Kingspan Stadium in August - about 1,000 short of its capacity. England lost the game 41-32 as New Zealand won their fifth title.
And in Association Football, or soccer, 28,182 saw hosts The Netherlands defeat Denmark 4-2 in the final of the UEFA Women's Euro 2017 in Enschede.
Soccer has seen many well attended women's games in recent years including:
The 2015 FIFA Women's World Cup Final - 53,341
England versus Brazil in 2012 - 70,584
and the Olympic soccer final between China and the USA in 1996 - 76,489
'Persistence and passion'
Ladies Gaelic football has grown in popularity in other parts of the world as well as Ireland - particularly amongst Irish emigrants.
Clubs can be found across North America, and as far away as China and New Zealand.
The chief executive of the the Ladies Gaelic Football Association (LGFA), Helen O'Rourke, puts the game's success down to "hard work, persistence and passion".
She also citied sponsors and coverage by Irish broadcaster TG4 as key factors in the sport's growth.
"We have a very fast and pure sport, but we strive to ensure there is a place for everyone with members and clubs being the keystone of the Ladies Gaelic Football Association," she said.
"In order to succeed you cannot forget that and we need to ensure we have the structures in place for the young girl kicking the ball for the first time through to the inter-county player running on to the hallowed turf in Croke Park in September.
While Ms O'Rourke was delighted by the turnout at this year's All Ireland Finals, she said this had now set new challenges for the future.
"All Ireland Finals Day in Croke Park is special," she said.
"But this funding and support ensures we have the structures in place to continue to grow the game at grass roots level and not lose the focus of the main reasons why females are participating in the game at all levels - fun and friendship."
Camogie growth
The Ladies Gaelic Football Association was founded in 1974 but Ireland's ladies have been playing Gaelic games for a lot longer - in particular Camogie, a version on the ancient game of hurling.
The Camogie Association was formed in 1905, one of many organisations emanating from the Gaelic Revival of the period.
Some 20,438 people attend the All-Ireland Camogie final in 2017, slightly up on the previous year and significantly more than in 2014.
The association said more people were playing and enjoying Camogie, as demonstrated by a 5% increase in individual membership registrations during both 2015 and 2016.
Croke Park, where the finals of most Gaelic sports are played, has a capacity of 82,300.
A ladies' football game has yet to fill it, but attendances are going in the right direction.