Ardnabannon outdoor centre to close doors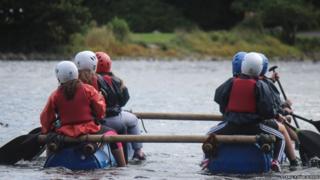 The Education Authority (EA) is to close its outdoor learning centre at Ardnabannon in County Down.
Since 1967, the 100-bed centre near Castlewellan has offered a range of pursuits from hillwalking to archery.
In November 2016, the EA announced plans to close four centres, but this was revised after a consultation.
The announcement came despite a campaign to keep Ardnabannon open, with staff being redeployed. The decision has been criticised by politicians.
Of the seven remaining centres, those at Bushmills, Killowen and Killyleagh will be redeveloped to provide services for children who have emotional and behavioural difficulties, or who are temporarily unable to attend school.
Sinn Féin's Chris Hazzard called for the Ardnabannon decision to be reversed.
The South Down MP said it was "devastating news for local staff and young people alike".
He said he had requested an urgent meeting with EA representatives.
"I'm afraid that this decision is yet another example of poor policy making on behalf of the EA, and it is the staff and young people who may, yet again pay the price."
'Disgraceful',
SDLP South Down MLA Colin McGrath said the move was "disgraceful".
He said thousands of people across County Down had fond memories of Ardnabannon.
"The evidence from the consultation process was that this decision is not supported. In a political vacuum, I view this as a bad decision," he said.
The EA's Arlene Kee said they had given careful consideration to responses made to the consultation and had "devised a model of delivery that is child-centred, developmental, flexible, and inclusive".
She said the EA's new approach would see instructors providing a service to local schools and youth groups within the community and at three day centres, in Armagh, Bangor and Ballycastle.
"We will be actively working with children and young people to design this service, promoting extensive volunteering and staff development opportunities within both the statutory and voluntary sectors," she added.