Stephen Ferrin mother: 'I lost three sons to suicide'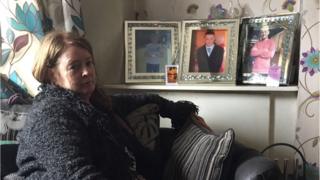 Patricia Ferrin has lost all three of her sons to suicide.
At her home in north Belfast, she contemplates what could have been done to save her third son from the fate met by his brothers.
"He needed somewhere quiet where he could put his head down and rest," she told the BBC's Talkback programme.
Stephen Ferrin, 31, was reported missing in early September and was later found dead at his home.
"I knew we didn't have much time with him," Mrs Ferrin said.
'Mummy, mummy'
"He wasn't the same person, I had lost him from the week before he went missing."
Mr Ferrin had lost two brothers, aged 19 and 24, a cousin, 19, and several friends to suicide.
He told his mother he was "a product of his environment", "tormented" and "fighting a war in his head".
Mrs Ferrin said her son had begged for help, but was often "turned away".
The father-of-one spent some time on a mental health ward, but his mother said it was clear that it was not the right place for him.
"It was like something from One Flew Over the Cuckoo's Nest (a reference to the 1975 Jack Nicholson film, which was set in a mental institution)," Mrs Ferrin said.
"Stephen was depressed, he wasn't suffering from psychosis, he needed to talk.
"I sat up many nights with him, talking.
"He was like a wee boy. I couldn't go too far away without him ringing, 'mummy, mummy,' he reverted back to childhood."
'Feeble excuses'
Mrs Ferrin believes the system failed her son and he came to believe that no one wanted to help.
"For him to beg and say 'please help me,' that brought tears to my eyes as well as anger, to be weakened like that," she said.
"And for them (medical staff) to turn around and say they couldn't get a bed, they couldn't get this or that, to me it was feeble excuses.
"I was annoyed, to me they should have tried harder knowing he was high risk."
Mrs Ferrin is certain that she does not want anyone else to go through what she has and is particularly concerned about the younger generation.
She has pledged to campaign for more help for people like her sons.
"I've lost them all, I've lost half my family," she said.
"People are too quick to judge, to blame drugs, but Stephen wasn't on drugs when he died.
"People should be seen when they are hurting, not sent away and told to come back when they have sobered up."
Seamus Mullen, the head of health and social wellbeing improvement at the public health agency for the Belfast and South Eastern Trust areas said "more can be done".
"The evidence is very clear that suicide rates are higher in more deprived areas," he said.
"In Northern Ireland we are working together with the PSNI and the ambulance service, but we would like to see more cross-departmental work on this."
Mr Mullen said work was also being done in schools to help children at a young age.