Margaret Conway wins UK-wide construction award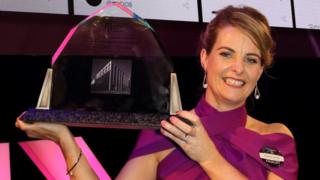 The woman who took charge of building Belfast City Council's new headquarters has won a prestigious UK-wide award for her role in the construction project.
Margaret Conway has been named Construction Manager of the Year by the Chartered Institute of Building (CIOB).
She is the first woman to win the overall title at the CIOB awards, which have been running for almost 40 years.
She oversaw the construction of the building, which was completed under budget, two months ahead of schedule.
'Completed early'
"Beating 84 finalists to the trophy, Margaret's achievement is all the more spectacular because it was her first role as a construction manager," said the CIOB.
The institute also praised her efforts to encourage more women to enter the building industry.
Ms Conway works for the Northern Ireland construction firm McAleer and Rushe, which was founded in her hometown of Cookstown, County Tyrone, 50 years ago.
The 39 year old has been working for the company for almost eight years, having studied for a degree in construction engineering and management.
The firm put her in charge of a £22m project to build a new nine-story office block on Adelaide Street in Belfast city centre.
It congratulated its employee for completing the 100,000 sq ft building "two months early with a clean health-and-safety record".
The CIOB said Ms Conway had worked with the council on a "major redesign", and saved the local authority £500,000 by reducing the height of the building.
"An even greater cost-saving measure involved adapting the existing raft foundations for the new superstructure, saving a further £750,000," the instituted added.
It said her "collaborative approach" had helped to accommodate "substantial late design changes, without losing valuable time from the schedule".
She was commended for keeping the budget "under tight control" and for introducing a new software system to streamline the snagging process.
The institute also said Ms Conway had "used her role to inspire and encourage young people - especially women - to enter the industry".
'True inspiration'
She did this by securing work-experience placements for joinery, plumbing and electrical students and arranging tours and lectures with local colleges.
In a statement, CIOB president Rebecca Thompson said Margaret Conway was an inspiration for anyone thinking of entering the industry.
"As well as remaining in control of the immense technical and logistical challenges of her day job, her inclusive style has encouraged young people to get involved in construction," she said.
"Our sector badly needs a more diverse workforce and Margaret shines out as a young leader who is making a genuine difference.
"We will watch her career with great interest."
It is the second year in a row that a McAleer and Rushe employee has won the CIOB Construction Manager of the Year title.