Sir Kenneth Branagh 'humbled' by freedom of Belfast award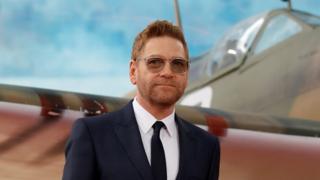 Sir Kenneth Branagh has said that being awarded the Freedom of Belfast is "an incredible honour" that he is "humbled" to receive.
City councillors unanimously voted on Monday night to honour the actor and director.
Sir Kenneth was born in the city in 1960, but moved to England with his family at the age of nine.
"I'm proud to say that you can take the boy out of Belfast, but you can't take Belfast out of the boy," he said.
"I thank Belfast City Council for their generosity, and please know that I will continue to shout aloud to the world at large about the many amazing developments happening in the place I am proud to call home."
'Belfast sense of humour'
Sir Kenneth will be the 82nd person to be awarded the freedom of Belfast.
Other recent recipients include singer Van Morrison, poet Michael Longley and Olympic gold medallist Dame Mary Peters.
"Belfast has always given me more than I could ever repay," Sir Kenneth added.
"It took great care of me till the age of nine.
"It gave me a profound sense of family, a magnificent landscape to play in, and a Belfast sense of humour that is a constant boisterous reminder to never take yourself too seriously.
"It gave me my first professional job, in Graham Reid's Billy Plays.
"It gave me the sharpest and most generous of audiences at the Opera House and at the Lyric theatre, and at cinemas across the years, who welcomed and supported my films."
'Temperamental outside loo'
Sir Kenneth said that if his parents and granny had been told that he would receive the freedom of the city "they would have expired with pride".
"They loved this place and these people, as do I," he said.
"I used to run home for my lunch when I was at the Grove Primary School in north Belfast," he said.
"My granny looked after me while my folks were at work -my father a joiner, my mum working in the local chippy.
"Granny lived in a very small but spotlessly clean house which I particularly remember for the eccentric and temperamental outside loo."
Lord Mayor of Belfast Nuala McAllister said the granting of the freedom of the city was the greatest honour the council could bestow and Sir Kenneth was a worthy recipient.
"As someone who has reached the very pinnacle of his career in acting and film, he has never forgotten his Belfast roots and is a fantastic ambassador for the city," she said.