Western health trust: Hundreds protest at planned cuts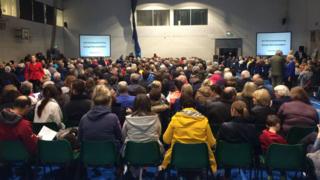 More than 600 people attended a meeting about proposed cuts in the Western Health Trust on Monday evening.
The Western Trust says it has to make savings of £12.5m as part of £70m in cutbacks across the health service.
Last week, members of the DUP were heckled by protestors at another public meeting held by the Western Trust in Londonderry.
The meeting, in Enniskillen, had been rescheduled from last Thursday when more people turned up than expected.
The meeting was part of a public consultation on proposed cuts to the health service.
The proposals include changes to elderly care provision and the neonatal unit at the South West Acute Hospital.
Padraig Murphy, from the Fermanagh Save Our Services group, said: "The people of Fermanagh are not going to slip quietly into the dark as they close these prestigious units.
"We're not going to watch people being thrown in the back of the ambulance with a brain bleed or a stroke and driven to Altnagelvin and in most cases be dead on arrival.
"We're going to fight this to the bitter end - we're not going to lose."
Chief Executive of the Western Health and Social Care Trust Dr Anne Kilgallen said many people had taken part in the consultation process.
"Their strength of feeling about the proposals that we've made is palpable and our responsibility now is to capture that and to make that available not only to our trust board, but also to the board, the health agency, and indeed to the department and we will do that," she said.