Party leaders condemn sectarian threats against Catholic families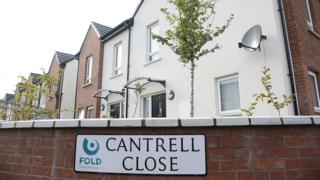 Party leaders in Northern Ireland have issued a joint statement condemning threats to residents in Belfast.
Last week, four Catholic families left their homes after receiving sectarian threats, a housing authority said.
They live in Cantrell Close, a shared housing area off the Ravenhill Road.
The statement said the party leaders condemned "all forms of sectarianism, intolerance and threats of violence". They said the threat should be lifted immediately.
The statement, which came from the DUP, Sinn Féin, the SDLP, the UUP, the Alliance Party and the Green Party added that there was "an onus" on the PSNI and the statutory agencies to provide "immediate and appropriate support" to the families.
They said this should include "rehousing those affected if they feel unable to remain in their homes".
Last week, the PSNI said a paramilitary link to the threats was a "very clear line of enquiry".
Sinn Féin said the threats came from the Ulster Volunteer Force (UVF), a loyalist paramilitary group.
Ch Supt Chris Noble said the Police Service of Northern Ireland (PSNI) would not speculate on who was behind the threats.
But he added: "Whoever it is clearly has no regard whatsoever for what the people of east Belfast want in terms of a community that can work effectively together and without division.
"We want to work with the residents in that area to make sure this doesn't happen again."
Ch Supt Noble denied that police had asked the families to leave their homes, adding that the job of the police was to "keep them safe".
The Housing Executive said: "A number of families in the south Belfast area have presented to us as homeless today claiming sectarian intimidation."
Cantrell Close is a housing development which is part of the Together Building United Communities (TBUC) programme.
The strategy, which was launched by the Northern Ireland Executive in 2013, is aimed at "improving community relations and building a united and shared society".
The four party leaders said the threat runs "absolutely contrary to the TBUC Programme".
They added: "TBUC represents where we need to go as a society in order to create a genuinely shared and welcoming community.
"Those behind this threat offer nothing but hatred and division and should be condemned by all political, community and statutory leaders."