Memorial service marks centenary of attack on HMS Drake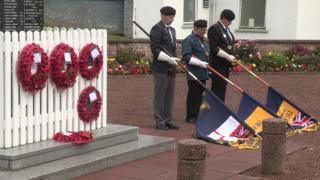 The wreckage of HMS Drake has lain in the waters off Rathlin Island for 100 years.
The World War One cruiser was torpedoed by a German U-boat off the island, with the loss of 18 lives, on 2 October, 1917.
A buoy marks the spot where the largely intact wreck lies in Church Bay.
To mark the centenary, wreaths were laid and prayers were said at a service at Ballycastle's war memorial to remember those who died.
The commemoration had been due to take place on the water at the wreck site, but that plan was abandoned due to poor weather.
Among those marking the events that unfolded a century ago was Margaret Patterson.
Her uncle James Patterson, an engine room artificer, was 26 when he was lost with HMS Drake.
She told the BBC: "It's very emotional being here today.
"I have the telegram that was sent from James' wife Dorothy to his parents, my grandparents, saying, 'Come at once, Jim killed'.
"It must have been so sad for Dorothy and for his parents and for his eight siblings as well."
Ms Patterson said the commemoration meant a lot to her family.
"It is a very significant day for me," she said.
"It's almost like finding the uncle that I never knew - finding him again and knowing where he is laid to rest."
Commander Rob Milligan is the senior naval officer for Northern Ireland.
He said:"There were lots of merchant convoys supplying Ireland and the United Kingdom at the time, Drake was escorting one of those convoys across from America when she was torpedoed.
"I think it's hard to imagine the scale of naval and maritime activity in this area at the time.
"It's important to remember what happened and the sacrifices made."
The wreck of HMS Drake has been popular with divers for some years, but in June it was made a listed monument.
The listing means that divers can still access the wreck, but will not be able to remove anything from it.
Monday's service in Ballycastle also remembered lives that were lost on HMS Brisk.