Bombardier: Jeremy Corbyn urges PM to 'summon' Boeing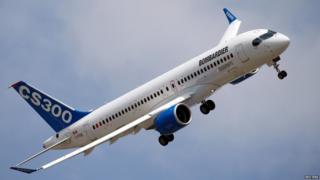 Labour leader Jeremy Corbyn has urged Prime Minister Theresa May to take action over a US trade dispute which is threatening thousands of Belfast jobs.
The future of a Bombardier's Belfast factory may be at risk after rival firm Boeing complained to the US authorities about alleged anti-competitive sales.
Boeing claimed Bombardier got illegal state subsidies from the UK and Canada.
Mr Corbyn called on Mrs May to join the Canadian PM in summoning Boeing to a "summit" to demand it drops its case.
Canadian premier Justin Trudeau plans to use the meeting to confront Boeing's chairman and chief executive about the claim.
In a letter, the Labour leader accused the British prime minister of of "foot-dragging" on the issue.
He said that while she had raised the matter directly with US President Donald Trump, she had failed to resolve the dispute.
In a preliminary ruling last week, the US Department of Commerce opted to impose a 220% import tariff on Bombardier's C-Series jet.
"You must now act with strength of purpose in the national interest," Mr Corbyn wrote.
Meanwhile, Northern Ireland's secretary of state has met Bombardier NI chief executive Michael Ryan and representatives of the Unite trade union in Belfast.
James Brokenshire said actions taken by Boeing in its dispute with Bombardier "could have an impact on any future dealings" with the UK government.
He said he wanted to echo comments by Defence Secretary Michael Fallon.
Mr Brokenshire said: "There is a compelling requirement for all in politics, in business and across the community to stand as one on this issue."
He said the UK government would continue to work with Bombardier management, the trade unions and the Canadian and US governments to find a resolution
In a speech at the Conservative Party conference on Sunday, the secretary of state said the action taken by Boeing was "unjustified and unwarranted".
Mr Brokenshire said he was "deeply disappointed" by the determination.
He urged Boeing to "get round the table and secure a negotiated outcome to this dispute quickly".
Bombardier employs about 4,000 people in Northern Ireland. About 1,000 are linked to the C-Series, the wings of which are made at a purpose-built factory in Belfast.
Mr Brokenshire also used his keynote address to appeal to Stormont parties to find agreement and re-establish devolved government.
Northern Ireland's main parties have been unable to make a deal since power-sharing collapsed in January.