Coroner rules Mairead McCallion died after partner assault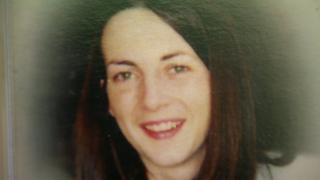 A County Tyrone woman died after being assaulted by her partner when he forced her out of his home, a coroner court has heard.
Mairead McCallion, 36, died from a bleed on the brain after being attacked by Noel Knox in his Omagh home in 2014.
She had been taken to police custody and Mr Knox was arrested.
She was rushed to hospital hours later after becoming ill and died the next day.
Mr Knox was charged with murder but the charges were later dropped.
He admitted during the inquest that he had put two hands on Ms McCallion and moved her out of his house in Castleview Court.
The coroner delivered a 12-page report into Ms McCallion's death in court earlier on Monday.
Ms McCallion's family said they did not expect the coroner's report to go as far as it did.
"My family have been in pain the last three, three-and-a-half years," said Patricia O'Brien, Ms McCallion's sister.
"The coroner's findings here today have reaffirmed to us our commitment to try and get justice for Mairead and we will continue to do that.
"The coroner did say that Mairead died as a result of an incident that happened at that address at that property on that date. That is further than what we expected from the coroner."
The court had heard that Ms McCallion suffered from mental health issues and alcohol abuse.
'Barely coherent'
She had been in a relationship with Mr Knox for six or seven years and was known to PSNI domestic violence officers.
The court heard that after the attack Ms McCallion told police that Mr Knox had pulled her hair, banged her against the wall and threw her out into the garden.
She was examined by a doctor at the police station but the court was told he was not given any handover from officers who had been at the scene.
The court heard that he asked her about a head injury, but that she denied it and said her hair was pulled.
The doctor also said that he saw bruises consistent with a possible pattern of repeated assaults.
Her condition deteriorated after she was taken to a friend's house. The court heard that she had slumped in the seat of the police car, was "barely coherent" and had vomited.
Ms McCallion was taken to South West Acute Hospital in Enniskillen where she died.
A post mortem examination found that Ms McCallion had died from a bleed to her brain caused by a traumatic event most likely within 48 hours of death.
The coroner said that the impact happened on the morning of 23 February 2014, when she was removed from the house by her then partner.
He called on police stations to carry more information about head injuries and urged for more training for officers on alcohol mimicking or masking the effects of a head injury.
In June last year, two police officers were disciplined for not seeking medical attention for Ms McCallion.
A Police Ombudsman report said the officers had failed in their duty of care to the victim.