Las Vegas: NI tourists caught up in gun attack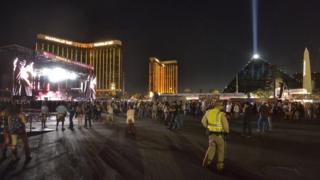 A newly-wed couple from Northern Ireland fled in panic from a Las Vegas concert as a gunman killed at least 58 people and injured hundreds more.
Stuart McCormick and his new wife, Zara, were among thousands of people attending the festival when the gunman opened fire from a nearby hotel.
"We were close to the middle [of the concert] when we heard four noises and panicked," he told BBC News NI.
The couple could not get out of the venue, so they hid behind a stall.
The suspect, who has been named as 64-year-old Stephen Paddock, sprayed bullets on the crowd from the 32nd floor of the Mandalay Bay Hotel.
'Still visible'
Witnesses reported that hundreds of shots were fired from the hotel, which overlooks the open-air country music festival.
"Zara ran and brought me with her to the exit... but we were held inside," Mr McCormick said.
"Then we hid behind a stall but were still visible. We thought the shooters were at our level during this.
"I realised it was coming from the Mandalay Bay side, so we ran towards Hooters.
"We ended up hiding in the MGM parking lot behind two cars."
The McCormicks, from Killyleagh, County Down, are on honeymoon in the US city.
'Absolute chaos'
They had flown to Las Vegas for their wedding last Friday.
The couple were not hurt in the shooting, but more than 400 other people have been treated in hospital for their injuries.
With a death toll of at least 58, it is the worst mass shooting in recent US history.
The gunman is dead, after reportedly shooting himself in a hotel room as officers closed in.
Frances McCullough from Belfast is on holiday in the city and is staying in a hotel next door to the Mandalay Bay.
She told BBC News NI she witnessed a scene of "absolute chaos" on the street outside as police tried to clear the area.
"I don't think I've ever experienced fear like it in my life," she said.
'Run for cover'
Ms McCullough explained how she had left her hotel with her friends for a shopping trip, and shortly after leaving the building they heard gunfire.
"We thought at the start it was fireworks, until we heard people on the strip shouting that it was a shooting."
Her group continuing walking along the strip, not realising the extent of the danger.
"We got as far as Planet Hollywood, five minutes into there we heard screaming and shouting - police running to us to tell us: 'Get out, run for cover, there was a shooter on the strip'.
"And from there it just led to chaos, absolute chaos."
Ms McCullough and her companions took shelter in another hotel and they had been there for a number of hours when she spoke to the BBC by videophone.
"I can't wait to get back home, I really can't wait" she said.
"I honestly did think I was going to die."
'Total shock'
Aoife McAdams from Londonderry is on holiday with three friends and is also staying in a hotel next to Mandalay Bay.
"It's my birthday today and we had a show planned for tonight," she said.
"The hotel is on lock-down and we all have to stay in our room.
"It's starting to calm down now at the Mandalay Bay, but [it is] just a total shock.
"Never did we think that we would be in a situation like this."
'Run, run, run'
Catriona Toland from Clonmany, County Donegal is in Las Vegas on holiday with her sister and sister-in-law.
When the attack began, she was in a bar just across from the MGM hotel.
"My sister-in-law went down to see what was happening, which was literally 100 metres from where we were sitting," Ms Toland told BBC Radio Foyle.
"She came back up and... within 30 seconds we were told to 'run, run, run - there's a shooter on the loose'.
"Everybody just ran and we all ran in different directions, I lost my sister and sister-in-law along the way," she said.
"At this stage everybody was in complete panic, it was just unbelievable. I just can't describe it."