Belfast mother recalls daughter's blind cord horror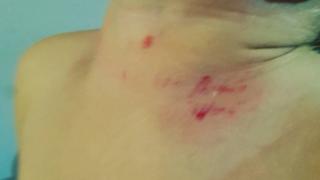 A Belfast mother has warned about the dangers of blind cords after her two-year-old daughter got tangled up in one in her bedroom.
Lisa McKernan's little girl, Ellen, suffered neck and head injuries in the incident in August.
She thought her daughter was asleep in bed. Ms McKernan was in the bath when she heard a bang.
Ellen had clawed herself free from the cord, but slammed her head off the corner of the bed.
"I got straight out of the bath and ran into the bedroom and I saw her neck and the redness of it - the cord of the blind was swinging.
"Her head was dripping with blood. It was a small puncture but quite deep. It bled for a while."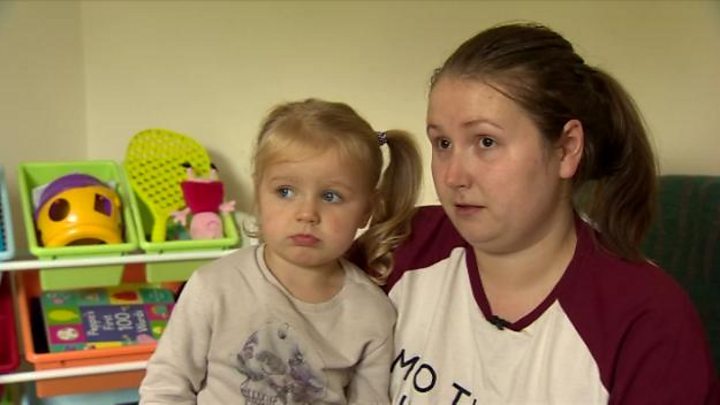 Ms McKernan said her daughter had never gone near the cords "before this horrible night".
"When she caught a breath and began to cry her throat was hurt so badly she didn't even sound like herself and I didn't recognise her sobs," she added.
Ms McKernan said she had been so shocked by the incident that it was only now she was able to talk about it.
The mother-of-five said she was speaking out as she wanted to raise awareness of the issue and that there was advice available about equipment that could prevent such accidents.
"You can get safety equipment from Belfast City Council, which is a plastic attachment that you nail into the wall - it means children can't get the cord free," she added.
"We didn't have it at the time.
"We cut off every cord from all the blinds that night - so there was no way the children could get access.
"I am just so glad Ellen is fine and I want to get the word out to people about how easy this is to happen.
"This is an experience we would never wish on anyone and we are blessed to have her here with us today."
The Public Health Agency (PHA) said that there had been three blind cord deaths in Northern Ireland since 2013.
Last year, the agency, in association with the Royal Society for the Prevention of Accidents (Rospa) and Northern Ireland's councils, released a video to highlight the dangers of blind cords.
The PHA said there were a number of key messages that adults should be aware of in the home.
These include:
Examine every blind, if they have a looped control chain or cord and do not have a safety device fitted, then you can easily install one of the many devices available
Ensure that all operating blind cords and chains cannot be reached by children
Move cots, beds and any furniture away from windows and blinds
When buying a new blind, always look for one that does not contain cords, has concealed cords or has an in-built safety device and that complies with the new European Standards.
Belfast City Council said that its safety devices for blind cords were free to members of the public who could avail of the service by contacting 02890 918715.