Fivemiletown service remembers young Troubles victims in quilt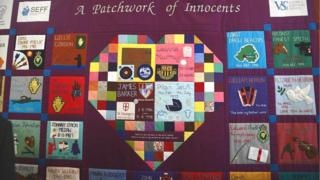 Some of the youngest victims of the Troubles have been remembered in a memorial quilt unveiled in County Tyrone.
It includes a patch with the name of Alan Jack, who was just five months old when he was killed by an IRA car bomb in Strabane in 1972.
The quilt was created by the South East Fermanagh Foundation (SEFF).
It was dedicated at a service at Fivemiletown Methodist Church on Sunday.
Alan Jack's aunt, Elizabeth Hamilton, was among those at the event.
"The day before he was killed, they had come out to see granny and granda," she said.
"He was so bubbly, he just smiled all the time. You just think about him every day. It never goes away."
Kenny Donaldson, director of service at SEFF, said this was the third quilt the group had produced.
"There's different symbolism attached today, in that the centrepiece is for children aged under sixteen."
A patch in memory of Leanne Murray, who was 13 when she died in the Shankill bomb in 1993, forms part of that centrepiece.
"It's been a privilege, an honour to be asked down here," said Gina Murray, Leanne's mother.
"Leanne was a bright, bubbly girl, very fussy about her hair. She was into netball, so there's a ball and a net on the quilt, which means Leanne to us."
The use of a sporting symbol was the idea of Leanne's brother Gary.
"Listening to Leanne's name being read out was hard to hear," he said.
"But it was nice to hear at the same time."
Another who attended the service was Donna-Maria Barker, whose son, James, died in the 1998 Omagh bomb. She and her family had returned to England after the atrocity.
"I swore I would never be in this country again, because I brought the children over for a better quality of life and it didn't work out that way," she said.
She visited Omagh as part of her return this weekend.
"It was so strange to see people going about their daily routine," she said.
"Going over to the memorial (garden), I had a bouquet of flowers, and it just looked so quiet and desolate. I got a little bit upset about that.
"Then suddenly I turned around and there were three ladies there, looking at all those names.
"And I felt a little bit better, because there's always going to be someone there."
The quilt will be available from SEFF for talks and displays.