Ten treated after taking drugs in prison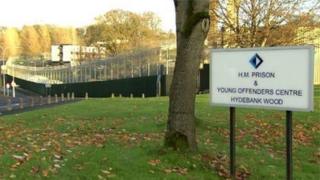 Ten prisoners at Hydebank Wood in south Belfast received medical treatment following an incident believed to have involved drugs.
The prison service confirmed that four people were taken to hospital on Friday night.
Six others received medical attention inside the prison for women and young offenders.
The NI Prison Service said it would investigate the circumstances of the incident.
A spokesperson for the Prison Service said: "Four young people from Hydebank Wood College were taken to hospital after becoming unwell, following medical examination they returned to the college.
"As a precaution a further six students received medical attention on site.
"None of those involved faced life-threatening conditions.
"Hydebank Wood is operating as normal and the Prison Service will be fully investigating the circumstances of the incident."
Green Party MLA Clare Bailey said: "We should be grateful that we aren't dealing with any deaths today."
She praised the prison staff who took action on behalf of those who needed help, but said questions had to be answered over how the drugs reached the prisoners.
She said there was a drug problem in "wider society" and that "will of course be seen spilling over into our prisons".