PSNI head Hamilton 'must explain DUP event visit'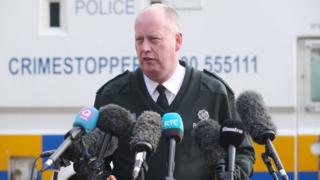 Northern Ireland's police chief constable has "serious questions to answer" about reports he attended a fundraiser for the Democratic Unionist Party (DUP), Sinn Féin has said.
George Hamilton accepted an invitation from DUP MP Ian Paisley to the North Antrim constituency dinner.
The Police Service of Northern Ireland (PSNI) said he "made no financial contribution" to, or at, the event.
But Sinn Féin MLA Gerry Kelly has questioned his attendance at the event.
He said that while the PSNI's chief constable "does have to engage with people right across the community, attending a DUP fundraiser would be a clear conflict of interest".
'Act with impartiality'
Mr Kelly called on Mr Hamilton to "provide an explanation to the public" about his attendance at "a party political fundraiser".
"There is an onus on the chief constable and his office to act, and to be seen to act, with rigorous impartiality on behalf of all in the community," he added.
A DUP spokesperson said the dinner was "not a DUP fundraising dinner" but was was "an annual MPs constituency dinner".
Mr Paisley said he hosted the North Antrim dinner annually.
"The event was attended by civic and political figures from across the community," he added.
In a statement, the PSNI said Mr Hamilton did not purchase a ticket to the event in Ballymena because he was an invited guest of Mr Paisley.
"The chief constable and senior team are invited to attend a range of events hosted by elected representatives," added the police statement.
"[They] are happy to consider opportunities for engagement at that level from any and all political parties."