Are weddings just an excuse for a party?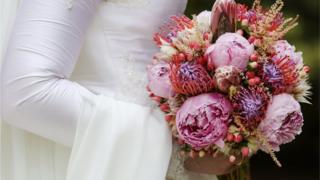 Wedding planning has become big business in Northern Ireland, with weddings becoming ever more lavish and expensive.
But is the scale of the event becoming too important for some people?
According to the Catholic Bishop of Derry, Dr Donal McKeown, for many couples who live together a wedding has become merely an excuse for a "great party".
Bishop McKeown made the comments at a Mass to mark the Derry Diocesan pilgrimage to Knock.
Quoted in the Irish Times, he said: "For many, the marriage ceremony marks not a key transition point in people's lives but rather the time when they have been living together and gathered enough money for a great party."
He said marriage used to make a "hugely significant" transition from single to married life, but that this transition had been devalued.
David McConkey has been a wedding florist for 30 years and a wedding planner for the last five.
He agrees that some people have become competitive about how much money they pump into their weddings.
"It's almost who can spend the most, it's almost: 'It's got to be bigger and better,'" he said.
"You still get the couples who want the very simple affair, but the majority of couples out there want the big weddings, they want the big day and if they can do it bigger and better than their friend, they'll do it."
'Big blow-out'
Mr McConkey said he knew of one couple who spent £30,000 just on flowers at their wedding.
"For a decent wedding in the north of Ireland these days, you are looking at £20,000 upwards," he said.
"I think many couples spend in the region of £25,000 to £30,000 when you take everything into consideration."
He added that about 60% of weddings with which he would be involved were between people who were already living together - often with children - and had "saved up to have their big blow-out".
"It is a big industry. I have people who will spend their money on someone like me to plan their wedding from beginning to end because they are both working, they've got a family, they don't have time to do the donkey work," he said.
However, he said church services were still very important to Northern Ireland couples.
"I would slightly disagree with [Bishop McKeown] in that I think a lot of couples out there do want the religious service, the church wedding - and it does mean a lot to them, the fact that they're married in the eyes of God.
"I would also agree that when they get out of the church and into the venue, it is a party."
The Northern Ireland Mixed Marriage Association (NIMMA) provides support and information to couples from different religious backgrounds, who are either married or contemplating tying the knot.
'Too easy to criticise'
The association's Paul McLaughlin said that Bishop McKeown had produced no evidence to back up his comments.
"Actual evidence of enquiries to NIMMA about couples making mixed marriages shows that the vast majority of these people opt for a church wedding," said Mr McLaughlin.
"Couples, who may not darken the door of a church again until perhaps the christening of children, still prefer to be married in some form of church ceremony.
"Northern Ireland is certainly a more secular society than in the past, but whatever the reason for choosing a church wedding, or for that matter any wedding, couples do what is right for them," he added.
"It is too easy to criticise young people and to say what they should and shouldn't do."
'A rare old time'
Mr McLaughlin said the main reason people get married remains the same as it always has been - love.
"Marriage is all about love and if love thrives, then the marriage will thrive, If love dies, then, sadly, so will the marriage," he said.
"That is the way it's always been.
"Should we force young people to live unhappy lives, to feel guilt about the 'failure' of their marriages, to 'stick things out' for the sake of appearances, family, religion? I think we are all glass-house dwellers on that one".
Mr McLaughlin said that it has always been a party day when someone gets married in Ireland.
"As far as the party after the wedding is concerned, well, that is as traditional as the veil and the flowers," he said.
"Generally speaking, the bride and groom head off and the rest of the people have a rare old time.
"A fortnight later, when you come back from your honeymoon, probably bored stupid and burnt to a crisp, everyone says it was great day."