'Keep NI farmers farming,' says Ulster Farmer's Union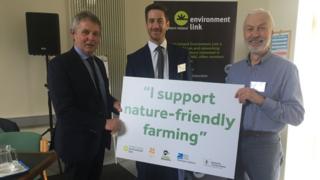 The future of agriculture should not be a battleground between farmers and environmentalists, the head of the Ulster Farmers' Union (UFU) has said.
Barclay Bell told environmental groups they should seek common ground with farmers who were committed to the environment, but also needed to make a profit.
He urged them to "keep farmers here farming".
"It's very hard to be green when you are in the red," said Mr Bell.
Exporting food production to countries where standards were lower would be bad for the environment, he said.
The conference has been organised by environmental groups to discuss options for agriculture after Brexit.
A focus for debate has been the future shape of agricultural subsidies and what they would be paid for.
The government has suggested a move away from paying farmers on the basis of the amount of land they own, to a model where they are rewarded for enhancing public goods such as biodiversity or water quality.
Northern Ireland currently gets a disproportionate level of EU subsidy - farmers receive 9% of the UK's share of European subsidy payments despite having only 3% of the UK population.
That is, in part, a reflection of the economy's reliance on agri-food.
Viviane Gravey, a lecturer in European Politics at Queen's University Belfast (QUB), told the conference that were the Barnett funding formula applied to a new UK agriculture support budget, it would lose a third of that cash.
On Thursday, on a visit to Northern Ireland, Department for Environment Food & Rural Affairs (DEFRA) Secretary Michael Gove said the regions would continue to receive broadly the same amount of financial support as they currently do.
But he said the final shape of the deal would depend on negotiations with the devolved administrations.