Gilmore shooting: Loyalist feud 'has cost police £5m'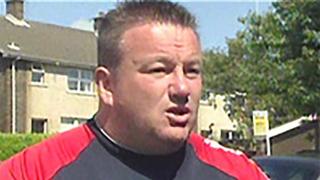 A feud between loyalist paramilitary factions that has resulted in the deaths of two men has cost police more than £5m, a court has heard.
The figure emerged during a hearing on Friday in which a man was charged with the murder of a high-profile loyalist in County Antrim.
George Gilmore, 44, was shot dead in Carrickfergus on 13 March this year.
Thirty-two-year-old Robert McMaw appeared at Belfast Magistrates' Court amid a tight security presence.
Mr Gilmore was shot in the neck as he sat in his car and died in hospital the next day.
A Police Service of Northern Ireland (PSNI) detective told the judge the killing was part of a "recent but longstanding feud" between branches of the south-east Antrim Ulster Defence Association (UDA) in Carrickfergus and parts of Belfast.
"It has cost in excess of £5m to police this matter," added the detective.
'Very real feud'
Mr McMaw, of Starbog Road in Larne in County Antrim, is also charged with the attempted murder of Steven Boyd and Kelvin Graham on the same date as Mr Gilmore's killing, as well as possessing a firearm and ammunition with intent to endanger life.
His defence said he had a "very limited" criminal record.
The judge refused his bail application due to the "background of a very real feud in the Carrickfergus area".
Mr McMaw was remanded in custody to appear again in October.
He is the third man to be charged in connection with Mr Gilmore's murder.
Samuel David McMaw, 29, and Brian Roy McLean, 35, are accused of the same offences.