Nolan's Talks Table - NI's young demand their platform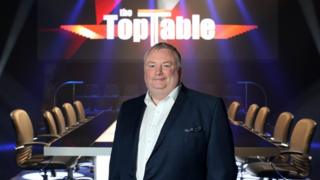 This week the next generation showed us they have the confidence and maturity to lead the political debate in Northern Ireland.
During two episodes of The Top Table, 17 and 18-year-olds sat in a huge BBC studio and gave the politicians a run for their money.
Their conversation was raw, bold and energetic.
While The Top Table is made for BBC TV, we've also created an online pilot called The Talks Table.
It's being streamed live here on the BBC News NI website and on BBC Northern Ireland's Facebook page on Sunday at 15:00 BST.
Reaching out
It's just one of the ways that we at BBC NI are reaching out to under-21s on Facebook Live, Twitter, Instagram and online.
In the digital show, four young people will debate some of the biggest stories of the week in our specially-built "situation room" set.
I am so proud of their intelligence and their eloquence and I'd like the public to know the thinking behind both programmes.
These are not youth shows directed solely at "young audiences" - they will be watched by young and old.
I am learning a lot touring the country and meeting young people who are demanding a platform.
They are frustrated because they are not being listened to, and they are demanding more representation on the media.
It is to my shame that I have not helped this age group until now.
'Abrasive' style
I'm writing this while travelling to England for work.
A number of 50 and 60-year-olds have been talking to me on the plane about the 17-year-olds they watched on The Top Table.
Not just talking about how confident they were, but also talking about what they said - they told me we need more of that in our society.
Many of you will be aware of my style which can be, let's say, "abrasive" at times.
The young people will not be treated with kid gloves - they are more than capable of handling themselves in political debate.
Some of the people we've seen already have been incredible.
Archie, at 17, has a cool, calm swagger about him - all underpinned by his education, and a depth of political knowledge.
You will see him again this Sunday at 15:00 on The Talks Table.
Alex, also aged 17, faced down MLA Jim Allister to tell him how hard it is being "non-binary" in Northern Ireland.
The Equality Commissioner has already, within hours of Alex's appearance, reminded schools about their legal responsibilities.
So far, I have referred to 17 and 18-year-olds, but Children's Commissioner Koulla Yiasouma has been lobbying me to lower that age profile to at least 16.
She summed up this project perfectly earlier in the week.
'A victim of energy'
"This isn't young people pushed to some obscure time slot: This is the BBC putting young people front and centre in mainstream political debate in Northern Ireland," she said.
But this project is only just beginning.
It will be huge, not because of the BBC, but because of the unstoppable energy of the next generation.
I should be a "victim" of that energy in this situation.
I'm a fat, 44-year-old presenter.
By the end of 2018, a 17/18-year-old young person should be pushing me out of the way and making me redundant as the host of The Talks Table.
I am actively looking for that person.
'Move. The next generation is here.'
I will leave every reader, no matter what age, with this final thought:
And it's a message to me too.
"Move. The next generation is here. Now."
If you are aged 21, or under and want to get involved, email us - toptable@bbc.co.uk.
The Talks Table will be streamed live this Sunday at 15:00 on the BBC News NI homepage and on the BBC NI Facebook page.