Bid to end Cavanacaw goldmine work dismissed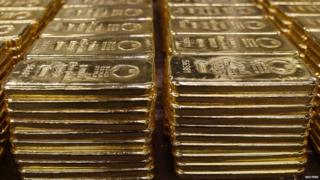 A legal bid to stop underground work at a County Tyrone goldmine has been dismissed.
William Donnelly was challenging a former minister's decision to approve an extension to the operation at Cavanacaw, near Omagh.
But the judge rejected all arguments raised.
This included claims that retrospective permission was granted for the removal of waste rock without an adequate environmental impact assessment.
She said: "I am satisfied that the department acted legally, rationally and followed proper procedures."
Mining has been carried out at the site by Omagh Minerals, a subsidiary of Canadian firm Galantas Gold Corporation.
Green light
In 2015, the then minister, Mark H Durkan, gave the green light to the extended project.
Planning permission was granted for underground work at the existing mine on the basis of compliance with strict environmental conditions.
Mr Donnelly claimed there was an unauthorised removal of large quantities of rock.
Points were also raised about the size of the site being either 60 hectares or 81 hectares.
According to Mr Donnelly, that raised the possibility that the minister was "misinformed, or even confused, as to the scale of the project being approved".
Planning approval
Lawyers for the department countered by insisting work was already covered by previous planning approval obtained more than 20 years ago.
No regulations were breached during the decision-making process, they argued.
The court also heard that part of the construction work under scrutiny was given the green light in 1995.
Although the judge accepted there was unlawful past removal of ore and rock, she rejected claims these were retrospectively approved under the 2015 permission.
She accepted Mr Donnelly had been frustrated in the past by breaches of planning permission.
Dismissing his legal challenge, she said: "I am, however, satisfied that in respect of the impugned decision the department was assiduous in complying with the duties imposed upon it under the various regulations."
Following her verdict Mr Donnelly indicated he may appeal the decision.