Orangeman Aughey jailed for driving into parade protesters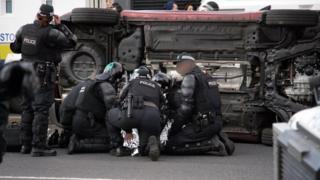 An Orangeman who drove his car into a crowd of protesters during a parade in north Belfast has been jailed.
John Alexander Aughey, 63, was found guilty of dangerous driving causing grievous bodily injury, assault causing actual bodily harm and assault.
A teenage girl sustained a shattered pelvis and a broken ankle and collarbone in the incident in 2015.
Aughey was given a two-year sentence at Belfast Crown Court on Friday, half of which will be spent in prison.
In June, a jury found him guilty of six offences relating to the crash at the Ardoyne shopfronts on 13 July two years ago.
The incident happened during a nationalist protest after a Parades Commission ruling not to allow an Orange Order lodge and flute bands to walk past an interface area.
'Blind panic'
Aughey, from Brae Hill Park in Belfast, claimed he was driving home after marching and had made a U-turn as he believed his car had come under attack by protesters.
Sixteen-year-old Phoebe Clawson was struck by the car before falling and being dragged along underneath it.
She was rescued when police officers and others present lifted Aughey's car on to its side.
Two police officers were among the others injured.
Aughey had denied that he deliberately drove at the crowd of pedestrians.
He said he had acted in a "blind panic" after a bottle hit his car and its wing-mirror was kicked, and attempted the U-turn to return "to the safety" of police lines.
'Frantic police efforts'
Issuing the sentence, the judge described the circumstances of the case as "unique", saying there was a "powerful mitigating factor".
"Had it not been for the fact that you found yourself in a threatening situation, you would have continued on your journey home and no offence would have been committed," she told Aughey.
But she said there had been an "obvious danger" that those close to his vehicle when he made the U-turn "would suffer serious injury".
The judge said that she had taken into account the fact that Aughey had continued driving for a short period after he collided with protesters "in the face of police attempts to stop" him.
She added that Miss Clawson's injuries could have been "catastrophic" but for the "determined and frantic efforts of the police".
The teenager has been "suffering a great deal, psychologically and physically", according to the judge, who told Aughey that his offending "has had long-lasting effects on her".
The judge also disqualified Aughey from driving for two years.