Aaron O'Kane: Man who punched baby spared from jail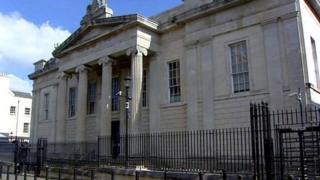 A man who punched his baby nephew in the face as he assaulted his brother at a house in Londonderry has been given a suspended jail term.
Aaron O'Kane, 26, admitted committing the two assaults on his brother and nephew in the family home in the Carnhill area of Derry on 30 April.
Since the assaults, he has lived at Lodge Road in Coleraine as a result of a court order banning him from returning to Derry.
The assaults followed a drinking binge.
The court heard O'Kane laughed in a police station after he was arrested for assaulting his 11-month-old nephew.
A Public Prosecution Service solicitor told Londonderry Magistrates' Court that at 23:15 BST on 30 April, the police received a 999 call from a woman who was screaming.
In the background, a man could be heard shouting at the obviously distressed woman to hang up.
Minutes later, a second 999 call was received from a man who said his brother had assaulted him and his baby son.
The police went to the house and detained O'Kane nearby.
The baby's father told police that O'Kane had returned home drunk and gone into his bedroom - where the baby and his father were asleep - and switched on the light.
The brother asked O'Kane to turn off the light as it would wake his son who was asleep in his cot.
O'Kane then grabbed his brother and punched him 10 times in the head and face.
Their sister ran upstairs and managed to separate the brothers, but O'Kane started to punch his brother again.
O'Kane fell into the baby's cot and, when the child's father lifted his son from the cot, O'Kane began punching him again as the baby was being held in his father's arms.
The court heard one punch missed O'Kane's brother and struck the baby on the side of his face.
'Disgusting'
Another punch struck the father on the head knocking his head against his baby's head. Both the baby and his father sustained redness to the face.
The prosecutor said that when it was put to O'Kane by police that his actions caused his baby nephew distress "the defendant laughed and smiled during the interview".
They added that O'Kane had said he was "drunk so what would you expect?"
A defence solicitor said that of the thousands of assault cases which have come before the courts in recent years, this one would live long in the memory.
He said it was an extremely serious case and O'Kane knew "the consequences of the offences will stay with him for the rest of his life".
He said O'Kane had issues in relation to his temper and in relation to alcohol and drugs misuse.
District Judge Barney McElholm described O'Kane's behaviour as "disgraceful" and "disgusting".
He gave O'Kane a five-month jail sentence, suspended for two years and ordered O'Kane to pay his baby nephew compensation of £300.
Mr McElholm warned O'Kane that he would go to jail if he did not pay the compensation.