Prescription drug addict's mum has 'funeral planned'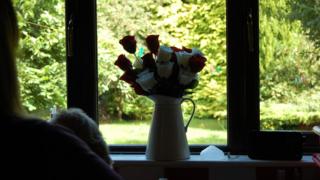 In a drawer in her bedroom, a Belfast mother has her son's funeral plan tucked away.
He is addicted to prescription drugs and she feels that it is only a matter of time before they claim his life.
"It's not even a question of when the time comes, it's going to come," she said.
Louise's story and that of another mother who has already lost her son to drugs feature in a BBC Radio Ulster documentary to be broadcast this weekend.
It looks at the struggles faced by those addicted to drugs such as tramadol, lyrica and fentanol and how that addiction is life-changing for their families.
Both women are calling for more support from health and social services in Northern Ireland.
Louise's story
Louise's son smoked cannabis for the first time when he was 13 and, since then, has become addicted to prescription drugs.
To pay for them, he borrowed and then stole from his family, he broke into houses and even acted as a courier for the dealers.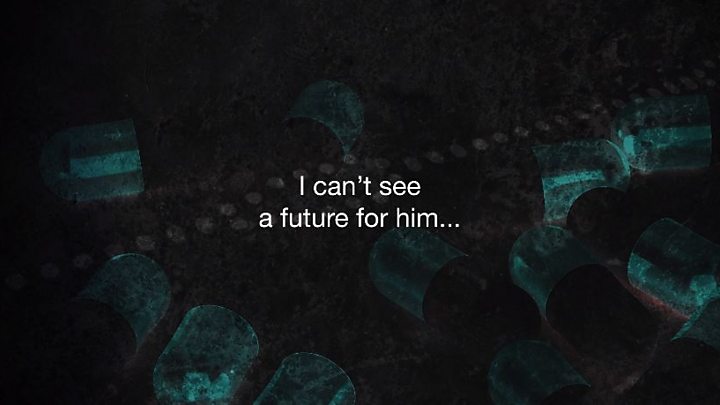 "It wrecks the whole family," said Louise. "My older children are concerned about me and the effects it has on me and it causes arguments.
"And then you have the stigma - people think it's the parents' fault. They don't know what they're talking about until they live it.
"They don't know the nights that me and the mums that go through it - the hours that we have walked the streets, looking for them."
One of her lowest points came when her son stood in front of his younger sister, cutting himself with a knife. He told them he wanted to die, that he hated his life.
"He was covered in blood where he cut himself," she said.
"That's something that always sticks in my mind. He was so angry and he was coming down from all these drugs.
"He had wrecked the house and put the windows in - and then he suddenly collapsed and went 'mummy, please help me'."
Louise has prepared for her son's death in the most practical of ways, with the details all written down.
"I know that whenever it does come that I won't be in any state to think of all the things that he would like and I would like for him. So I have it [a plan] there, ready."
She's told her son of the plans; sometimes he agrees that he needs help, at other times he insists it will never happen to him.
"I know a lot of these kids - if they thought that anyone would hurt their family they'd go ballistic, but they don't realise that they are the ones that are hurting them the most. They wouldn't do it if they realised."
She's frustrated at the level of care and provision available for people who are struggling with drug addiction in Northern Ireland.
"The most important thing I would say to any parent is don't lock yourself away, you've done nothing wrong. This is not your fault.
"Get the support of people who know what you're talking about and aren't judging you and have been through what you are going through. Know that you're not alone."
Deidre's story
Caomhan was 19 when he died from a drugs overdose.
His mum, Deidre, says her son simply couldn't cope after his partner Shauna died, leaving him to bring up their daughter, Tia.
A viral infection of the heart killed Shauna. She died in bed with Caomhan's arms wrapped around her.
"I used to wake up in the mornings and Caomhan would be lying beside me in the bed," said Deidre.
"And I used to say to him: 'Son, if I could take your pain away in a heartbeat, I would.' And he used to go: 'mummy, this feeling in my stomach, I can't do this.'
"But he was a brilliant wee daddy."
For a time, Caomhan was able to bring up Tia by himself but then Deirdre noticed signs that something wasn't right.
He tried several times to take his own life but was saved by Deirdre's maternal instincts and the intervention of family. He had spells under the care of mental health teams, but his grief was overwhelming.
The day before he died, Deidre remembers Caomhan being in good spirits. It was a Saturday and she was going to her daughter's house for the next day - Mother's Day.
"I got to the hall and he shouts: 'Mummy I love ya' and I said: 'I love you too - hope you have me sorted for tomorrow.'
"And he started laughing."
Deirdre left and Caomhan went out, but he returned mid-afternoon in a sleepy state.
Caomhan had taken a mixture of drugs, including three tramadol tablets.
"Basically, he went into a deep sleep," Deirdre explained. "His brother kept checking him and says the snores of him were unbelievable.
"I wasn't aware until the coroner's report that's what happens. The snores are him going into a coma. But Caomhan snored so we wouldn't have thought anything of it."
Deidre still hasn't come to terms with her son's death.
She's angry at the dealers who sell prescription drugs, that her son couldn't get the help he needed and is concerned about his brother who has also turned to drugs to cope.
"I'm worried the same thing is going to happen again. Sometimes I see another coffin in front of me. His brother was only 19 but he looked after him. They were really, really close."
Deirdre has found some solace with a group of women who come from across both nationalist and loyalist areas of the city.
They meet to talk about their experiences and how they feel. Some, she says, have the added pressure of not being able to talk openly in their communities about the scourge of drug dealing.
She says Tia, now four, is her "reason for breathing".
"I have a little girl who cries for her mummy and daddy," she said.
"It was her mummy's anniversary last weekend. She wanted tied to the balloon to go up to heaven to her mummy and daddy - so that's what I'm living with."
The documentary Buds Blues and Yellas, presented by Kelly Bonner as part of the Stories in Sound series, can be found on the BBC iPlayer.