NI breast cancer treatment progress stalls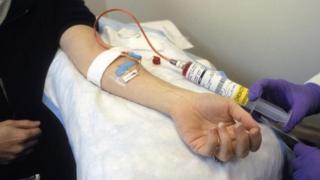 Progress in treating breast cancer in Northern Ireland has stalled, according to a new report.
Breast Cancer Now, the leading breast cancer charity, examined how the disease is dealt with across the UK.
The report found performance figures in Northern Ireland are "stagnating" and highlighted waiting time targets.
The Health and Social Care Board (HSCB) and Public Health Agency (PHA) said there had been an improvement during June 2017 compared to June 2016.
The government's own objective is for all patients to be seen by a specialist within two weeks of an urgent referral for suspected breast cancer.
However, this has been missed for three years in a row.
Performance has also varied widely from an "alarming low" of just 63% of patients being seen within the time period in June 2016 to a high of 99.4% in October 2016.
Northern Ireland's last cancer strategy was published in 2008. England and Scotland currently have strategies in place while Wales updated its cancer delivery plan last year.
The report said that an updated cancer strategy must be developed and put in place before October 2018 in order to improve breast cancer treatment.
It is also wants the process of patients getting access to cancer drugs on the health service here to be reviewed so that it happens more quickly.
'Committed'
In a statement, the HSCB and PHA said they were "committed to working with trusts to ensure that people with suspected cancer are seen, assessed and treated as soon as possible".
The statement continued: "In relation to breast cancer, the ministerial standard is that people referred with suspected breast cancer should be seen and assessed within 14 days. It is recognised that some patients referred to hospital for assessment have waited longer than 14 days and this is unacceptable.
"However, there has been a marked improvement in performance during June 2017 (86%) compared to June 2016 (65%). The improved position is a result of collaboration across the HSC where some trusts have taken on additional work.
"The assessment and treatment of all patients referred to hospital because of a suspicion of breast cancer remains a priority for the Department of Health, HSCB, PHA and HSC Trusts. Breast assessment services have been encountering ongoing challenges as a result of increasing numbers of referrals and ongoing workforce shortages within radiology.
"There is widespread agreement that the current model could be improved and the HSCB and PHA are undertaking a review of services to determine how they could be redesigned to ensure a more equitable and timely service," the statement added.
'The system is broken'
Melanie Kennedy, 39, from Bangor, is a single mother to two young sons and was diagnosed with incurable secondary breast cancer in 2014.
Her oncologist had to put in what is called an 'individual funding request' for a cancer drug. It was rejected.
Melanie said she was left with no choice but launch an online crowdfunding campaign to raise money for the drug.
"The system is broken," she said.
"Those with the power to fix it should remember that every time a drug stops working and a patient is denied their next best option, they feel like they're being diagnosed all over again."