NI farms 'can expect same support' post-Brexit - Gove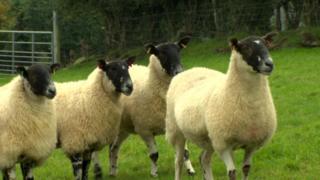 Farmers in Northern Ireland can expect to get roughly the same amount of financial support after Brexit, the UK agriculture minister has said.
Michael Gove was speaking on a visit to a farm near Doagh in County Antrim.
Mr Gove said there would be a move away from a system where farmers were paid for the amount of land they had.
It would shift to a scheme where they were rewarded for the environmental benefits of their work, and supported to access new export markets.
Northern Ireland currently gets a larger share of EU subsidy money compared to other UK regions.
That is a reflection of the economy's reliance on the agri-food sector.
'The right thing to do'
Mr Gove said he had been in discussions with the authorities in Scotland and Wales, and there had been a "broad feeling that proceeding on that basis" was the right thing to do.
But he said a final UK agreement on the issue would have to be negotiated.
The Department for Environment, Food and Rural Affairs secretary said he hoped a new Northern Ireland Executive would soon be in place to facilitate that discussion.
Mr Gove said his second visit to Northern Ireland in two months was aimed at hearing from those at "the sharp end" of Brexit.
That included those who traded across the border, sourcing or supplying goods to and from the Irish Republic.