Arrest over Elmgrove Primary School threat calls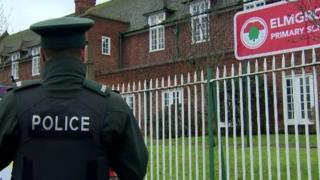 A man in his 30s has been arrested as part of an investigation into threatening phone calls that closed a primary school in east Belfast.
Elmgrove Primary School sent pupils home on Thursday after police informed them about the threat. It will be closed on Friday.
The school said the calls referenced "a threat to the safety of our pupils".
It was also closed for a period in January 2015 after a "malicious" email threat.
Police said the arrest was part of an investigation into "malicious telecommunications" to a school that were of a "threatening nature".
The school said that once information was received on Thursday, senior management acted promptly and followed agreed procedures.
Elmgrove Primary School said a text was issued to parents regarding pick up arrangements and that police maintained a presence on the school site "until all pupils were dismissed".
It said it took "immediate action" to protect its pupils.
"At no time was the safety of the pupils compromised or risks taken," added the school.
It said that after consultation with the Education Authority, a decision was taken to close the school on Friday "as a precautionary measure".
"We will update parents via the school Facebook page, Twitter and by text as we receive further information," added the school.