Cannabis worth £2.1m seized at Dublin Port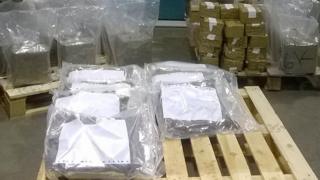 A 41-year-old man from Northern Ireland has been arrested in connection with drugs worth an estimated street value of 2.45m euros (£2.14m) seized at Dublin Port.
The seizure followed an operation by gardaí (Irish police) and revenue officers.
The drugs, 376kg of cannabis resin and 9.7kg of herbal cannabis, were uncovered in crates in a truck.
The truck had disembarked from Holyhead in Wales on Wednesday evening.