Police Taser man suspected of carrying machete in shop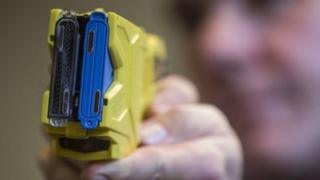 A man suspected of carrying a machete has been Tasered by police following an incident at a shop in Newtownabbey, County Antrim.
Police received a report that a man carrying a machete had entered a shop in the Mill Road area shortly before 17:00 BST on Wednesday.
A 32-year-old man was later charged with possessing an offensive weapon in a public place and assault on police.
He is expected to appear before Belfast Magistrates' Court on Friday.
Police said specially trained firearms officers had responded to the incident "and a Taser stun gun was deployed by an officer to prevent further harm to the person and members of the public".
The man was taken to hospital for assessment.
The Police Ombudsman's Office has been informed of the incident.