Lagan Valley Hospital: Surgery cancelled over burst water main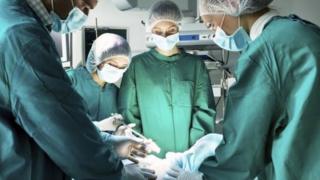 All Thursday's surgery and endoscopy procedures at Lagan Valley Hospital in Lisburn were cancelled due to a burst water main.
"Contingency plans are in place and patients are being provided with bottled water for drinking," said the South Eastern Trust.
Delayed operations would be rescheduled as soon as possible, it added.
NI Water said "the difficult position" of the burst hampered the repair, which was completed later on Thursday.
It said this was slowed the progress of the repair, which was completed on Thursday afternoon with supply being fully restored to the site.
"NI Water staff, along with the Northern Ireland Fire and Rescue Service, worked through the night to minimise and prevent further damage; however, the basement of the hospital and two residential properties were affected," it said.
"NI Water has also been in contact with the residents of the properties affected to assist them with the aftermath of flood damage."
The health trust said surgery would be back to normal on Friday.
"We have water storage tanks on site and NI Water is providing additional tankers to allow all other services in the hospital to operate normally, so that patients can be looked after appropriately," it added.