Stormont could be 'up and running in weeks' - Coveney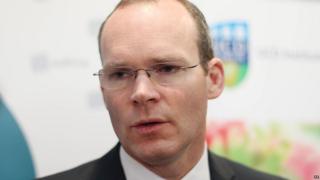 The Stormont Executive could be up and running again within a matter of weeks, the Irish foreign minister has said.
Simon Coveney said a "relatively small" number of issues were left on which to reach agreement.
He added that the "mood between the two parties had improved a lot".
The institutions collapsed in January following a row between the DUP and Sinn Féin over a botched green energy scheme.
Several rounds of talks involving the British and Irish governments and the local parties have so far failed to reach an agreement.
Speaking before a meeting of the All-Island Civic Dialogue on Brexit in Dublin, Mr Coveney said: "I think they are genuinely trying to make progress on some difficult issues for both parties."
The foreign minister met the DUP and Sinn Féin in Belfast on Wednesday, which he described as "a good day".
Mr Coveney said they were working on a relatively small number of issues with the hope of putting together an Executive within weeks.
"We are not quite there yet. I suspect there is at least another week in this yet," he added.
The foreign minister said it was important that a government voice from Northern Ireland be heard on big issues such as Brexit and the Bombardier-Boeing dispute.
DUP leader Arlene Foster said her party welcomed a "change in tone" from Sinn Féin but that it now wanted to see "a change in terms of wanting to compromise".
She told BBC News NI that her party would continue to "work in the process".
In an interview with BBC News NI, Theresa May said she had been discussing the return of a devolved administration with the leaders of the DUP and Sinn Féin.
"It is those two parties who will form the executive, it is those two parties who are working through how they can come together in the future," said the prime minister.
"It is in the interests of the people of Northern Ireland to see that devolved administration back up and running, taking decisions for the people of Northern Ireland in Northern Ireland."
Power-sharing broke down in Northern Ireland in January, when the late Martin McGuinness, of Sinn Féin, resigned in protest against the DUP's handling of an inquiry into the Renewable Heat Incentive scheme.
His party had demanded that DUP leader Arlene Foster step aside temporarily to allow an investigation into the scheme she set up, but Mrs Foster refused.
Over the past nine months, and during two elections at Stormont and Westminster, the two parties have remained deadlocked over a number of issues.
The most significant sticking points between the parties are disagreements over an Irish language act, same-sex marriage, a Bill of Rights and measures to deal with the legacy of Northern Ireland's Troubles.