New minister 'could overturn' Mallusk incinerator decision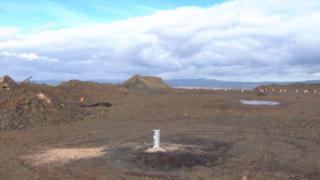 A new infrastructure minister could overturn a controversial decision to approve a waste incinerator near Mallusk, it has been claimed.
A senior civil servant gave the go ahead for the £240m facility in the absence of a minister.
It caused controversy with politicians claiming it was not his decision to take.
SDLP MLA Nichola Mallon has met the head of the Northern Ireland Civil Service to raise her concerns.
They held an hour long meeting which was also attended by residents opposed to the plan.
Ms Mallon said officials had made the case that the incinerator, which would deal with black bin rubbish from six super councils, was in the public interest and could cut waste crime.
She said she would be pushing for answers to remaining questions.
"What does 'in the public interest' mean in this case?," she said.
"Exactly what damaging consequences would have been incurred to the 'public interest' from waiting a few more weeks until there was a clear picture of whether an executive will be formed?"
Ms Mallon said it was clear from the meeting that if an executive were formed, a new minister could "reverse" the approval.
Planning for the incinerator was originally rejected by a former environment minister on grounds that it could pose a potential risk to health and discourage recycling.
But an appeal to the Planning Appeals Commission established that none of the statutory health agencies had opposed it, and it had the backing of waste experts in the Department of Agriculture, Environment and Rural Affairs.
It was later approved by the Department for Infrastructure which now has responsibility for strategic planning.
Campaigners against the plant are considering a legal action to challenge the approval decision.